Avira WebProtector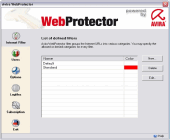 Control who can access the Internet, when and where!
Today the Internet has become a natural tool in the modern information society and that's why it influences the private life as well as the working life and changes the education. Also for children and young persons the big wide world of the World Wide Web is getting more and more interesting.
But besides many positive possibilities there are also many varied dangers lurking in the Internet: auto-dialling, pornography, crime, virus or rip-off pages. That means for parents both, to remind their children of any dangers and to institute a technical protection on the computer. Avira WebProtector is web access profiles and sites parental control security software, It can control surfing in the Internet and prevent certain websites from being accessed.

Download Trial 1.10 MB
Software Information
System Requirements
Version:
2.2

Windows 8/7/XP/Vista
Pentium II CPU
512 MB RAM

License:
Free to try
File Size:
1.10 MB
Screenshot:
View Screenshot
Rating :
Scope of supply:
Avira WebProtector offers you the possibility to block or unblock Internet contents according to predefined criteria and user profiles;
Filters based on one of the world's leading and largest URL database, which contains more than 67 million entries (date: August 2006). It is updated daily with approx. 50,000 new websites and pictures;
Classification possibilities through 62 predefined categories, for instance society (sects, job search), entertainment (music, humor, online purchase), communication (web mail, anonymous proxies, chat, e-cards), finance (home banking, gambling games), drugs, weapons, pornography, criminality (illegal activities, eroticism, hacking, violence);
Solutions not only tailored to Internet contents of American and other English speaking pages, but particularly also of German and European Internet contents;
Creation of user-specific surfing profiles for up to 1,000 users: rights, times, categories. You can thus create an individual rulebook with surfing time budgets for each of your users;
Time and time zone protection, therefore you can authorize the lunch break from 12 noon to 2 p.m., for example, for surfing;
Blocking of data downloads;
Available in home-user and business versions and as a for AVM KEN! 4.
Main Advantages for Avira WebProtector:
Secure Internet – not an illusion with WebProtector
Simple, fast installation, childish, simple management
Filter function cannot be manipulated or circumvented
Individually adjustable filter rules for different target groups and user groups
Works with all types of Internet accesses, supports all commonly used browsers
Low costs, best precautions to prevent damage
Reduction in administration costs through easy operability
Prevents misuse or unwanted use of the Internet by company personnel and thus reduces the risk of possible damage
RELATED SOFTWARE DOWNLOADS FOR AVIRA WEBPROTECTOR