Avira AntiVir Professional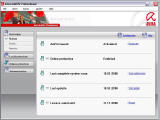 Protects your desktop PCs – securely and efficiently
Avira AntiVir Windows Professional is a comprehensive, easy to use antivirus program, that constantly and rapidly scans your computer for malicious programs (such as viruses, Trojans, backdoor programs, hoaxes, worms, dialers etc). Repair, delete, block, rename and quarantine suspicious programs or files.
Avira AntiVir Professional offers maximum security for workstation computers under Windows and UNIX. Digital attackers such as viruses, worms, Trojans, rootkits and adware/spyware are reliably detected and eliminated.





Software Information
System Requirements
Version:
8.1.0.582

Windows 2000/XP/Vista
196 MB RAM
512 MB for Windows Vista
HDD: 40 MB + quarantine
for installation: 100 MB

License:
Free to try, $62.97 to buy
File Size:
22.1 MB
Screenshot:
View Screenshot
Rating :
Here are some key features of "Avira AntiVir Professional":
Leading detection and elimination of viruses and malware. Now with a new search engine: yet faster and safer;
AHeAD Technology (Advanced Heuristic Analysis and Detection) to detect and ward off unknown or rapidly changing attackers;
Real-time monitoring of every file access through integrated on-access scanner (incl. archive scanning) as well as on-demand scanner for manual and time-driven search runs;
Integrated MailGuard email scanner (POP3 and SMTP) to examine incoming and outgoing emails. Including examination of email attachments. With AntiBot function to establish authorized senders and servers;
Quarantine management to safely isolate infected and suspicious files;
Scheduling and automation of routine tasks;
High performance through multi-threading/multi-daemon capacity (several files are scanned at high speed at the same time);
Extremely small, bandwidth saving updates of program and/or detection pattern database; automated updating and distribution via the Internet or network;
Network-wide administration by the Avira Security Management Center (SMC).
Integrated WebGuard to examine the HTTP based Internet data traffic against viruses and malware. With automatic possibility to block phishing and malware URLs (AntiDrive-by);
Interface with vertical menu system to access all modules easily and safely. Actions such as updates and search runs can be started directly in the interface.
AntiBot and AntiDrive-by;
New module: Rescue Systems.
Main Advantages for Avira AntiVir Pro:
Optimum security
Integrated, cross-platform virus and malware protection
Reliable, extremely powerful AntiVir technology with leading multi-awardwinning detection performance
Fast reaction to new dangers through in-house malware research centers
Low costs
Extremely low administration costs through automated workflows and central management
Intuitive operation without long, expensive training times
All licenses incl. free updates, upgrades and 14 day installation support
High investment security
Fast, resource-saving scanning technology which reduces the load on servers and networks existing systems can therefore be used for a longer time
Transparent licensing designed to meet requirements without hidden costs
Free platform change to new or alternative operating systems
RELATED SOFTWARE DOWNLOADS FOR AVIRA ANTIVIR PROFESSIONAL