AfterLogic WebMail Pro PHP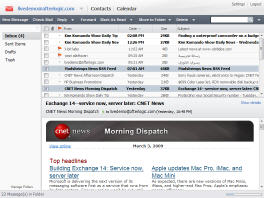 AfterLogic WebMail Pro PHP is webmail front-end for your existing POP3/IMAP mail server. Offer your users the fast AJAX webmail and innovative calendar with sharing. Stay in control with the admin panel and the developer's API.
AfterLogic WebMail Pro PHP is easy to install, easy to use, easy to manage. Offer your users what they like - a clean and intuitive webmail interface. The integrated web administration panel allows you to easily manage your users and system settings. Your users will enjoy WebMail Pro performance even on slower computers The light-weight interface is lightning fast, thanks to the well-designed system architecture utilizing extensive caching and vast optimizations of rendering the user interface.
AfterLogic WebMail Pro PHP look-and-feel is designed to give users what they may need at the moment and avoid clutter of complex menus, toolboxes and unwanted features. These efforts result in improved usability and light-weight interface layout. E-mail address auto-complete, drag-n-drop, message preview pane and other features will save time and let your users be even more productive.




Software Information
System Requirements
Version:
5.8.5

Windows 2000/XP/2003/2008/Vista/7 or Linux/Unix-based
Web server: MS IIS or Apache
PHP engine: 5.1.0 or above
MS SQL server 2000 or above, MySQL 4.1 or above
Internet Explorer 6+, FireFox 1.5+, Opera 9+, Safari 3+

License:
Free to try, $149.00 to buy
File Size:
6.60 MB
Screenshot:
View Screenshot
Rating :
Key Features of AfterLogic WebMail Pro PHP:
Access to any POP3/IMAP4 account
Compose/Reply/Reply All/Forward/Redirect/Delete messages
Administration via web interface
Skin-based interface
Multi-language user interface. Danish, Dutch, English, French, German, Hungarian, Portuguese-Brazil, Russian, Swedish, Turkish translations built-in, easy to add new ones
Unlimited attachments number per e-mail
Browser-safe viewing HTML-formatted e-mail messages
View and Save attachments
Option to create Printed version of e-mails
Display advanced message headers option
Compatibility with all major browsers
Integration with external web applications (bypass login screen)
Folders: Inbox/Sent/Drafts/etc., folders management and navigation
Calendar support (scheduling)
WYSIWYG Editor (creates HTML e-mails in Rich Text mode)
Storing e-mails in database (attachments are stored on disk as separate files)
Databases supported: MS SQL Server, MySQL Server
IMAP4 synchronization
IMAP4 nested folders support
Advanced Contacts and Groups
Mail Search feature
Advanced users administration
Advanced filters system
Automatic marking messages as Read/Unread
Personal Signatures
SPAM filtering options
Multiple POP3/IMAP4 accounts per user
Personal user settings
International charsets support
Timezone offset specification
"Get new mails at login" gets mails from all accounts of the user
AfterLogic XMail Server natively supported
Blocking external images in e-mails for security reasons
AJAX auto-complete of e-mail addresses at Compose page
Spell checker support
Checkboxes in messages list, contacts list
Additional list of frequently using contacts in compose message screen
Key Benefits of AfterLogic WebMail Pro PHP:
Accurate e-mail viewer on the market (e-mails are rendered just like in Outlook)
Easy integration with existing web sites and applications
Full source code provided
Easily customizable, skin-based interface style, can be translated to other languages
The complete solution: can use your existing mail server or provide its own if you do not have any
Free basic technical support via e-mail and web forum.
RELATED SOFTWARE DOWNLOADS FOR AFTERLOGIC WEBMAIL PRO PHP