Active Query Builder Standard .NET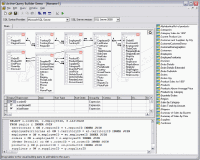 Active Query Builder .NET Edition is a visual query builder component suite that allows your end-users to build complex SQL queries with unions and subqueries via an intuitive visual interface.
Active Query Builder .NET Edition supports Visual Studio from 2005 up to 2008, Windows.Forms environment (100% Managed Code, NO direct Win32 interop calls).

The interface of Active Query Builder is similar to either MS-Access or SQL Server query construction interface, but has much more possibilities than any other similar component. Such unique feaures of Active Query Builder like building queries with unions and subqueries make it the best solution for professinal tasks.
The component may be integrated with Visual Studio 2005 application with just few lines of code. Unlike many other query building solutions, Active Query Builder does not force the programmer to use embedded data grid, SQL editor or something else. Instead, it allows to integrate any accompanying functionality as quickly and easy as possible.




Software Information
System Requirements
Version:
1.5

Windows 98/ME/NT/2000/XP/Vista
256 MB RAM
Pentium II CPU

License:
Free to try, $450.00 to buy
File Size:
0.99 MB
Screenshot :
View Screenshot
Rating :
Key Features:
Completely visual building of complex SQL queries
Visual building of sub-queries
Visual building of unions
Columns pane allowing to define grouping, sorting, and constructing criteria
Tree pane to browse and navigate query tree
Database objects tree pane to add objects to query
Visual criteria constructing tool for Where and Having clauses (Forecast)
Powerful programming interface
Configuring the layout of generated SQL code
Retrieving the list of parameters found in the query
Retrieving extended information about parameters: datatype, related field, operator
Ability to alter metadata information
Ability to build queries with objects from different databases
Pre-filtering of database objects to speed up metadata loading
Ability to work without live database connection
Saving and loading all metadata information to XML format
Full access to internal query representation objects
Several visual representation modes
MS Access style
SQL Server Enterprise Manager style
Support for various SQL Dialects
ANSI SQL/92
Microsoft SQL Server
Oracle
Microsoft Access
MySQL
Firebird
IBM DB2
Sybase
PostgreSQL
Informix
SQLite
ANSI SQL/89
ANSI SQL/2003
Miscellaneous options
SQL Formatter: Plain text output filter to customize SQL code the way you like it
Ability to detect SQL Syntax dialect automatically
Ability to translate interface of Active Query Builder to any language
Ability to switch languages in run-time
Full set of database connectivity options
Metadata providers for native .NET Data Providers of all supported database servers
Direct connect to Advantage Database Server
Direct connect to VistaDB 3
OLE DB Metadata provider
ODBC Metadata provider
Generic event-driven metadata provider
RELATED SOFTWARE DOWNLOADS FOR ACTIVE QUERY BUILDER STANDARD .NET EDITION