Download File Control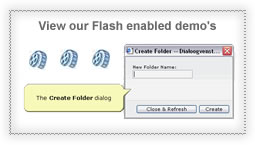 Download File Control (DFCs) is a professional and easy solution for managing files for download with multi-level security settings. Create unlimited download categories with different levels of access and manage the users that have access to the available files.
The administration back-end let's you easily create/maintain new categories, create/maintain access levels, create/maintain users, upload/delete files, create/delete directories and many more.......

If you want to offer your webvisitors a professional and easy environment for downloading multiple files and keep maintenance efficient and fast, DFCs is the best solution you can get.



Buy Now $59.95 USD
Software Information
System Requirements
Version:
1.3

DFCs (Client): Any webbrowser
DFCs (Web Host): Windows Server OS or ASP Compatible OS, IIS, ASP 3.0, MS Access database

License:
Free Trial, $47.95 to buy
Rating:
List of features in the Download File Control system:
Create unlimited download categories with description, assign access level and set active/in-active
Create unlimited users with different access levels
Create access levels with descriptions and assign these to categories
Manage files within categories
Upload/view/delete files and folders with an advanced upload utility
Set allowed file types and limit the upload size of files
All file types are forced to download using the Stream method (example: images will be presented as a download instead of being displayed in the browser window)
Activate and de-activate files within categories
Validate files within a category (does file exist on the server)
Add files with a File System Object (FSO) browser to your download categories
Add custom title and description for your file instead of actual filename
File path is stored in the database which makes the actual path invisible (prevent file leeching)
Search for specific files (extension: jpg, zip, txt) within your data directories
Automatic cookie based login system for registered users
Extensive file information