Advanced Archive Password Recovery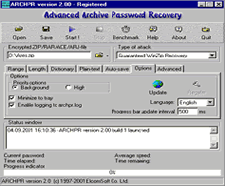 An ultimate tool to recover lost or forgotten passwords for ZIP (PKZip/WinZip), ARJ, RAR (WinRAR) and ACE archives.
Supports the customizable "brute-force" attack, effectively optimized for speed (for ZIP, up to 15 million passwords per second on Pentium III); dictionary-based attack, and very fast and effective known-plaintext attack. For WinZip archives with 5 or more encrypted files, guaranteed decryption is available. Multilanguage interface is provided.








Software Information
System Requirements
Version:
2.20

Windows 9x/Me/NT/2000/XP
Pentium or similar processor
64MB RAM

File Size:
907 kB
License:
Free to try, $60.00 to buy
Screenshot:
View Screenshot
Rating:
Advanced Archive Password Recovery Features:
Guaranteed decryption (usually, within the hour) of most WinZip archives (with 5+ encrypted files) is available; it works regardless the password complexity and length.
The program has a convenient user interface.
The program is very fast: on 1GHz CPU, it tests about fifteen million passwords per second (or about a billion passwords per minute) -- according to independent reviewers and experts, the fastest ZIP cracker in the world!
Known plainext attack is available.
The program can work with archives containing only one encrypted file only (at the same speed).
Self-extracting archives are supported.
The program is customizable: you can set the password length (or length range), the character set to be used to generate the passwords, and a lot of other options.
You can select the custom character set for brute-force attack (non-English characters are supported).
Dictionary-based attack is available.
The "brute-force with mask" attack is available.
The maximum password length is not limited (there are some practical limitations, though).
No special virtual memory requirements.
You can interrupt the program at any time, and restart from the same point later.
The program can work in the background, using the CPU only when it is in idle state.
Please note, however, that for the password is not stored anywhere in the archive (ZIP/RAR/ARJ/ACE file), and so it cannot be just extracted or decrypted. Instead, ARCHPR can recover it by trying different passwords: all possible combinations in a given range, or from a wordlist, etc. ARCHPR can test as many as fifteen million passwords per second (for ZIP archives), and so the likelihood of finding a valid one is very high. There is still no guarantee that the password will be recovered, but here the human factor plays its role: most people use short and/or easy to remember passwords. We estimate the success rate as 90-95%.