XP Tools for professional version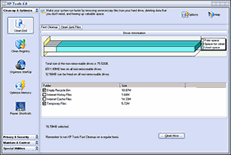 XP Tools is a totally integrated suite of powerful PC Utilities to fix, speed up, maintain and protect your computer. With only a few minutes of tweaking, XP Tools will optimize the performance of your computer, corrects problems and helps you to customize your system to suit your needs.
When you run XP Tools, your Windows system will run faster, will crash less often, and will be more private and secure. This suite of 20 utilities will bring you peace of mind as you lock out the people in your home or office who want to snoop into your private files, install software that you don't want or need, just tinker with your computer.
XP Tools will erase your Internet tracks, hide your sensitive files and folders, lock your important applications, and give you the tools that you need to fine-tune your computer to your personal needs.

Order Now $99.95 USD
Software Information
System Requirements
Version:
8.0

Windows 8/7/XP/Vista
300 Mhz Pentium processor or better
512 MB RAM

File Size:
3.91 MB
License:
Free to try, $99.95 to buy
Screenshot:
View Screenshot
Rating:
20 powerful utilities:
Clean Disk
Make your system run faster by removing unnecessary files from your hard drive, deleting data that you don't need, and freeing up valuable space.
Clean Registry
The Registry is the heart of your Windows system. Make it clean and efficient again, and your computer will be faster and more stable.
Organizer StartUp
StartUp Organizer lets you get rid of the useless utilities that automatically load each time you start your Windows - the utilities that are slowing down your important applications.
Optimize Memory
Have you noticed that your computer runs slower and slower as the hours pass? The main reason is that the programs that you close don't free up your valuable system memory properly. Memory Turbo ensures that memory is given back to you when you're through running a program. This results in brisker computing, and fewer system crashes.
Repair Shortcuts
Most often you delete/move the target file or folder of a shortcut, making that shortcut invalid. This utility searches your disk for such dead shortcuts, and can even fix them, by automatically searching for moved targets.
Hide Folder
Hide your files and folders from snoopy people. They can't read, modify, or destroy your information if they can't find it.
Clean Tracks
Protect your privacy, save storage space, and improve the performance of your computer by erasing the tracks left by Windows, your Internet browser, and other programs.
Exe Password
Password protect your programs. Lock unauthorized people out of your spreadsheet, money manager, word processor, Outlook Express and any program that contains private information.
Clean IE Tracks
It not only erases typed urls, history, and other personal information, it also erases information stored in hidden index.dat files.
Clean BHO
Clean BHO is a security tool designed to remove unwanted browser helper objects that can hijack a user's computer, invade the user's privacy, or even worse, steal his/her identity. Installing Clean BHO will protect the user's computer.
Shred Files
Easily add programs to the Windows Start Menu, and hide the ones that you don't want other people to know you're using.
Manage Windows
Would you like an easy way to determine which windows are open or closed, and which always stay on top? Windows Manager will make you more efficient by tailoring Windows to meet your individual needs.
Manage Process
There are more programs running on your computer than you realize. Process Manager makes it easy for you to take control of what's running. You can easily lock out dangerous processes.
Protect IE
More and more web sites are installing malicious code onto your hard drive, or changing your browser settings, without your permission. IE Protector will lock the bad guys out of your computer by keeping them from misusing Internet Explorer.
XP Uninstaller
Most software that you've uninstalled is still partially there. Uninstall Plus removes it fully, resulting in a smoother, more stable computer. This utility can also hide some of your installed programs, so other people don't accidentally wipe them out.
System Information
System Information takes a deep look into your computer and gathers numerous facts and information about your hardware and software. This data can be important for you when you want to upgrade the system or when you are asked by a support technician if certain components are installed on your computer.
Auto Shutdown
Your can increase security by powering down your computer automatically at the end of the workday, or on any schedule. This award-winning utility is a complete shutdown, restart, and logoff manager.
Backup Driver
If you've ever tried to upgrade Windows, or restore Windows after a system crash, you've learned that you need to find software drivers for your mouse, hard drive, CDROM, and a dozen other hardware devices. Driver Backup grabs all of your drivers, and stores them for you in a safe place, so they'll be handy when you really need them.
Folder Size
If you've ever wondered where on earth all of your free hard drive space has gone, this handy utility will tell you. You can view your folders and subfolders, and see where files are accumulating.
XP Shell
Here's a unique handy collection of tools that you can use just by right-clicking a file, a folder or desktop. Save time and work more efficiently with this suite of context-menu shell extensions.
More Screenshots - Click each image to enlarge!