WordPipe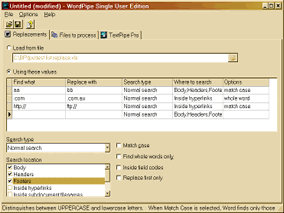 Search and Replace multiple Microsoft Word documents. Change hyperlinks and UNC paths when servers get renamed; update contact details such as names, addresses and phone numbers; translate documents with find/replace lists; update Microsoft SharePoint documents or Microsoft Namespace Server mappings. Using WordPipe is simple. 1) Drag and drop files from Windows Explorer to WordPipe, or right-click the files or folders to process in Windows Explorer and choose WordPipe. 2) Add one or more search/replace pairs. 3) Go! WordPipe can change thousands or millions of documents, and can make multiple changes simultaneously to save time. It automatically handles read-only files, passwords and other protection, and it can be automated to run overnight or over a weekend. No user interaction is required. It even includes restart recovery in case Microsoft Word crashes! WordPipe offers many more search and replace options than Microsoft Word; such as hyperlinks, bookmark names, text boxes, shapes, drop down fields, document properties (such as Title, Subject, Author, Company etc) and more. EasyPatterns and Perl regex patterns can also be used. Unlike competing products, WordPipe is fully Unicode compliant (allowing Find and Replace with international character sets), and can handle an unlimited number of documents and find/replace pairs. WordPipe can also update ISO-9001 version numbers.




Software Information
System Requirements
Version:
New

Windows 8/7/XP/Vista
Pentium or similar processor
Microsoft Word 2000 or XP or Microsoft Office 98, 2000 and XP (NOT Word 97)
32MB RAM

File Size:
1.22 MB
License:
Free to try, $499.00 to buy
Screenshot:
View Screenshot
Rating:
WordPipe Features:
Can search and replace inside bookmark names to ensure consistency across multiple documents.
Handles locked fields - and restores the lock after making changes.
Search and replace inside the headers and footers of multiple sections.
Search and replace inside text boxes, shapes and inline shapes, and now inside grouped shapes.
Search and replace inside hyperlinks and hyperlink addresses.
Search and replace UNC link paths.
Search and replace inside field codes.
Search and replace inside built in document properties and custom properties such as Title, Subject, Author, Company etc.
Search and replace graphics and company logos - see the FAQ.
Search Only mode - very handy for detecting where replaces would occur.
Search and replace with all Word's options such as Wildcards (pattern matching), Match Case, Whole Words only, Sounds Like, Find All Word Forms.
Handles any number of sub folders.
Control the document types used - so you can process .doc, .rtf, .html, .htm, .dot, .txt, .asc, .ans, .wri, .mcw, .wpd, .wps or any custom document type.
Integrates with TextPipe Pro to provide more sophisticated text processing options.
Can be automated or scheduled via the command line.
Handles documents with password for open or modify.
Handles protected documents - and restores the original protection after making changes.
Handles mail merge documents using a dummy mail merge data document.
Read only documents are automatically skipped and logged.
Read only recommend documents are processed with NO user intervention.
Easy to install/uninstall.
The original file date and time stamp can be preserved.