Windows Media Player 9 for Mac OS X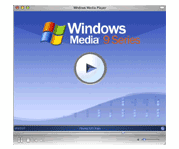 Introducing Windows Media Player 9 for Mac OS X. Sporting a new brushed steel skin for Apple's newest operating system, this new version of our player opens the world of Windows Media 9 content to Macintosh users, enabling them to access the best audio and video on the Web. New plug-in support added for Internet Explorer, Netscape and Safari enables playback of Windows Media files right from the browser.

Windows Media is the fastest growing media format on the Web, and Windows Media Player for Mac is the way to experience this great content. Visit WindowsMedia.com to get started.

Windows Media Player for Mac has been designed specifically for the Macintosh platform. The release sports a new, easy-to-use design and enables users to directly access the best content on WindowsMedia.com. In addition to the default look and feel, there are three additional "skins", which includes a mini-skin for audio-only.



Download Trial 6.99 MB
Software Information
System Requirements
Version:
9

Apple Mac OS X version 10.1.5 or later
Any computer supported by Mac OS X version 10.1.5
128 MB of RAM
10 MB available hard disk space
Microsoft Internet Explorer 5.1 for Mac, America Online for Mac OS X, Netscape 7.1, MSN for Mac OS X version 2.0, or Apple Safari 1.0

File Size:
6.99 MB
License:
Freeware
Rating:
Additional Information:
Windows Media Playback Details
Support for local and streamed playback of Windows Media files
ASX version 1.0, 2.0, and 3.0 parsing
UDP, TCP/IP, HTTP and multicast streaming
Protocol automatic ordering and rollover
Multiple bit rates
Intelligent streaming
Logging
Producer file support
Server Side playlist
Favorites
Closed captioning
HTTP basic authentication
Limited Windows Media Download (WMD) support (will not display ICP skin - only playback of audio/video)
Comprehensive List of Codecs Supported

Audio:
Windows Media Audio Decode (Format Tag: WMA2 = 353, WMA1=352)
Decodes all CBR profiles from 5kbps to 192kbps, 8kHz to 48kHz, mono and stereo
Decodes all v9 CBR profiles, from 5kbps to 320kbps, 8kHz to 48kHz, mono and stereo
Decodes all quality based, bit rate based and peak constrained VBR profiles
Supports WMA v1 and WMA v2 bit streams
Decodes WMV v9 Pro downsampled to stereo
Windows Media Audio Pro Decode
5.1 discrete to stereo fold down only
Windows Media Audio Lossless Decode
Windows Media Audio Voice Decode (Format Tag: 10)
Decodes all CBR profiles from 4kbps to 20kbps, 8kHz to 22kHz, mono
Supports Speech mode, Music Mode and post-filtering
G.726
Video:
Windows Media Video Decode (4CC: WMV7, WMV8, WMV9)
Decodes content encoded with WMV v7 and v8
Decodes content encoded with WMV v9
Decodes WMV v9 1p/2p CBR/VBR
Windows Media Video Image (4CC: WMVP)
Decodes CBR/VBR content
MS MPEG-4 Decode (4CC: MP42, MP43)
Decodes content encoded with MS MPEG-4 v2 and MS MPEG-4 v3
ISO MPEG-4 Decode (4CC: MP4S)
Decodes ISO MPEG-4 v1.0 (subset of simple profile)
Windows Media Video Screen v7