WinSettings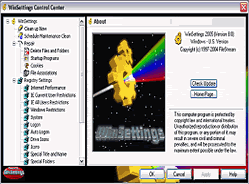 The smart way to optimize windows and protect your online privacy.

WinSettings repairs and maintains your Windows, optimizes PC, and protects your online privacy and security. It helps you to speed up Windows Startup and delete locked files. You can lock up security and privacy settings, as well as hiding Registry editing tools for added security protection. It cleans up your surfing tracks automatically or on demand. It is also a Screen Capture and a Wallpaper program. It blocks pop-ups before they show up with hotkey override, kills all pop-ups with one click, and cleans up unwanted tracks left on the computer from surfing the Internet and in the Document Menu automatically on Windows Startup, Shutdown, or on demand with just one single click. It is also a Screen Capture and a Wallpaper program.




Software Information
System Requirements
Version:
8.1

Windows 8/7/XP/Vista
Pentium processor
512 MB RAM

File Size:
1.63 MB
License:
Free to try, $29.95 to buy
Rating:
Key Features of WinSettings :
Stop Spyware from Getting Started
Too often Spyware and other Malware sneak into our computers and cause havoc. All Spyware programs put themselves in Windows Startup to be automatically loaded at Startup. Once they are running, they won't let any program to remove them. In addition, they also slow down Windows Startup. WinSettings lets you remove them from Windows Startup list as well as terminating them even when they are actively running so you can delete them from your computer.
Maintain and Repair Your Windows
WinSettings is a powerful Windows utility that optimizes your PC's performance through regular maintenance and repair, and tune up your Windows settings for faster Internet connection. It offers 29 options to automate the cleaning processes so your computer can be guaranteed free of unwanted tracks and junk. It lets you identify and manage programs launched at Windows Startup so you can speed it up. It also enables you to delete in-use files and folders, stop auto launched programs, repair file association.
Lock up Settings to Improve Security
WinSettings not only lets you search and delete cookies by search words, it blocks intruding pop-ups before they show up. It also offers secure delete so private files can not be undeleted. This new release lets you control what changes are allowed in Windows and Internet Explorer settings. WinSettings can prevent your Internet Security and Privacy settings from being changed without your knowledge by others using your computer, or you may hide all of Internet Options menu.
Customization and Capture Screens
You will have the power to customize Windows, such as Shell Icons, e.g. the Recycle Bin icon, play Background Music in a variety of formats including MP3. This release added functions that enable you to change computer name, logon screen, IE title, and many more. In addition, its Screen Capture feature offers you 16 ways to capture all or part of the screen or just the application contents. WinSettings offers you so many very useful and essential functions in one compact program.
RELATED SOFTWARE DOWNLOADS