WinCron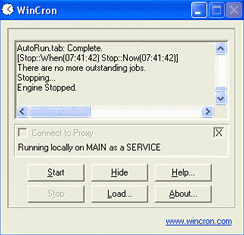 WinCron is a task scheduling program ideal for virtually any type of unattended task management. A superset of UNIX Cron functionality, WinCron provides full scripting support for FTP, EMAIL (both SMTP and POP3), IMAGING, SENDKEYS, and STRING processing.
The integrated VBScript takes job creation to a new level.

WinCron can be run either as an application or as an NT/2000/XP System Service. When run as a system service, WinCron utilizes both Domain User accounts as well as the LocalSystem account. WinCron fully supports synchronous, asynchronous and detached (no console) mode program execution. WinCron supports a very flexible time specification format for 'triggers'. These triggers can be fully qualified date / time specifications, relative time (e.g. 10 min from now), recurring time, constrained time (time window for execution), etc. WinCron is a 32Bit, multi-threaded task scheduler that can run a virtually unlimited number of concurrent 'jobs'. These jobs can either be loaded through the UI, on the command line or from an AutoRun.tg file. Perfect for Web Administration.




Software Information
System Requirements
Version:
4.3

Windows 8/7/XP/Vista
Pentium or similar processor
256 MB RAM

File Size:
7.00 MB
License:
Free to try, $29.00 to buy
Screenshot:
View Screenshot
Rating:
Key Features of WinCron :
Program WinCron with industry standard VBScript.
Full CRON syntax as well as native WinCron syntax for matching date/time.
Tasks can be run either synchronously or asynchronously.
Full support for Microsoft Terminal Services / Remote Desktop.
Programs can be run detached/hidden (in background without a console.)
Run programs as another user.
Rich Command Line Administration available through telnet.
WinCron can be run as a NT/2000/XP System Service in a Domain User account and or LocalSystem account simultaneously.
Fully scriptable FTP:

Wildcard operations: MGet, MPut, MDel
Recursive operations: RGet, RPut, RDel
Automatic File Type Detection for all Get and Put operations.

Fully scriptable SMTP

Multiple attachments
Full control over email header construction
SMTP Authentication
Write Batch mailers, Auto Responders, Forwarders, etc.
Lots of samples.

Fully scriptable POP3

Automatic MIME decoding of attachments
Full control over email header parsing
Download only headers
Download only only a 'peek' at the message body
Write Spam filters, Auto Responders, Forwarders, etc.
Lots of samples.

Other scriptable services such as: STRING, SENDKEYS, and IMAGING.
Recurring jobs and day skipping.
Run only certain times of the day with Suspend and Resume directives.
Procedure calls, ONERROR handling and access to environment variables.
Fully supports COM and ActiveX extensions.
New jobs can be added on-the-fly without stopping WinCron.
Delays relative to current time for job initiation and termination.
User reminders (dialogs) can be rescheduled with a programmable snooze button.
Online Help.
Quiet or invisible mode.
Sys Tray icon for easy access.
Rich set of current Date / Time macros can be expanded within scripts.
Debugging and logging features for script development.