Web Cloner Pro - Website download and copy website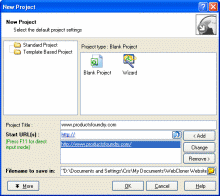 Web Cloner is an offline browser and is the perfect tool for any Internet user to download rapidly and automatically large amount of files from any website and organize it efficiently for later use. Combining the highly customizable download filters, easy to use wizards WebCloner became already the silent friend of thousand of user all over around the world. This smart tool is able to download thousands of pages in the same time and also pack them in real time to make easier for you to manage, move, export saved content for later use.
Web Cloner combines the power of multi-threading with a very intuitive and nice interface to offer you a solution to your download problems. Basically, each download progress contains four steps. Select files you want to download (using the file filters) from where (using integration tools with Internet Explorer, Netscape or any other browser), start/resume the download, refine the download, browse saved files and the last step is the export wizard.
Software Information
System Requirements
Version:
2.6.6

Windows 8/7/XP/Vista
Pentium or similar processor
512 MB RAM

File Size:
3.6 MB
License:
Free to try, $49.95 to buy
Screenshot:
View Screenshot
Rating:
Main features in WebCloner:
Save downloaded website into a single packed file.
Wondering why you should search for such a feature? It's simple, read below a few reasons:

Save disk space - WebCloner uses a packing system that is able to decrease the size of saved website to as low as 33%. WebCloner does that by saving all the content into the .web file format.
Move saved website made easier by WebCloner - You can now even share the saved websites with your friends since you have to copy just one file to move thousands of saved Webpages. Because the downloaded files are packed inside the .web files, you can share them with your friends easily.
Keep you privacy - WebCloner can protect your .web files with password. In this way you are the only user that can have access to saved web content.

Why do you have to backup saved websites over and over in the same way you do with any other offline browser. WebCloner does that runtime.

Download multiple projects at once.
Most offline browsers do not allow you to download multiple websites in the same time, require you to open a project and wait until the download completes before starting the download on the next website. Some programs allow you to start different Projects at the same time, but the websites will be downloaded one at once.
WebCloner can download as many projects as you want in the same time.
The only limitations you have are your computer resources.
WebCloner has enough tools for browse, search and manipulate links and pages.
WebCloner comes with a built in web browser and also a built-in image viewer that allows you to search for content or filter saved images however you want.
It gives you download project details.
WebCloner offers a large amount of information about any file being downloaded, through the project tree (site map) and download information area.
It offer enough tools to export any part of downloaded websites into useful formats.
Through its intuitive export wizard WebCloner can export links, pages, parts of downloaded websites to any useful format, starting with export to folder, CHM, ZIP or even to a stand alone executable file.
Benefits, use WebCloner:
It gives you everything you need to quickly get started without spending countless hours trying to figure out menu after menu of controls.
Use WebCloner to create copies of entire Web sites.
Since WebCloner saves the pages on your computer, you'll browse now the internet faster. You can have WebCloner to download Webpages while you are browsing already saved webpages.
Find the information you are looking for faster, using now the Search options available in WebCloner.
Turn your computer into a virtual library by saving Webpages into packed files (*.web) in the same way Microsoft Word saves a document.
Share saved content with your buddies directly over the LAN/WAN using the internal web server or transferring created web file over the email or any other media type.
Protected saved Webpages with password, so you can make yourself sure nobody else will be able to access them.
Create stand-alone executables with your website and distribute copies of them.
Check for broken links on your Web site.
Download all images from a Web site to your hard drive.
More Screenshots - Click each image to enlarge!