VTrain (Vocabulary Trainer)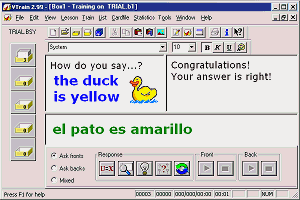 VTrain (Vocabulary Trainer) is a flashcard-based tool used in 50+ universities. Its unique spaced learning system guarantees you will remember any foreign word for years after only a few repetitions. It groups the flashcards in "cardfile boxes" representing different levels of performance, so that you can review the most difficult cards more often. Moreover, it includes an automatic scheduling facility that draws up a timetable of spaced repetitions for you and reminds you when a flashcard has to be reviewed again. The goal of this is to beat what psychologists call the "forgetting curve", with minimum effort. --- On the other hand, VTrain includes a rich text editor that supports image edition and voice recording via OLE. A smart keyboard layout switch for 2 languages and virtual keyboards that you can edit make multilingual edition easy. --- If you'd rather use ready Decks of flashcards, you can also download free flashcards in 40 languages from the VTrain website. --- Getting started with this program can be confusing because of certain non-trivial features. First-time users are encouraged to take the Tutorial from the Help menu. --- VTrain can operate over local area networks. It is free for schools and has been registered by more than 20 universities.




Software Information
System Requirements
Version:
5.20

Windows NT/2000/XP/2003/Vista
Pentium or similar processor
64MB RAM

File Size:
4.75 MB
License:
Free to try, $26.10 to buy
Screenshot:
View Screenshot
Rating:
Key Features:
Support for same-day repetitions
Now the intervals between scheduled reviews can be set in terms of minutes, days, and weeks.
Convenient retakes
Cardfiles now incorporate a new Box 0, which is intended as a "Pool" (reservoir) for new flashcards. Thus, only the flashcards you answer incorrectly are collected in Box 1, and you can retake them comfortably.
Asking for a hint in the Train mode
A new button and shortcut (Ctrl+K) in the Train mode allow you to request a hint before inputting your answer.
Correction markup algorithm
The characters you input incorrectly in the Training mode are marked up by the Answer Check procedure.
New option for 'cheaters'
If this option is on, the following will happen: If you request to see the solution on a flashcard during Training and then enter it, the card will be sent back to Box 1 (instead of being put into the next Box).
Full Unicode support (for non-western fonts)
This version of VTrain is Unicode-based. This means you will be able to use virtually any writing system of the world with it, but, for the same reason, it supports Windows NT4 / 2000 / XP and later only.
Rich-Text enabled import/export facility
Now you can edit your flashcards in your favorite word processor and import them into VTrain without loss of format.
Customizable flashcard Decks
The flashcard Deck files now incorporate language-specific data, such as Keyboard Layout defaults and Question Prompts (which appear during Training sessions).
On-screen keyboards for 100 languages
The new version comes with ready-to-use Virtual Keyboards for 100 languages. Now they are stored in separate files, i.e. independently from the Decks of flashcards. This way, all changes you make to a language-specific Virtual Keyboard will be applied to all Decks linked to it.
Improved alphabetical sorting
The list sorting algorithm is now case-insensitive and ignores the remarks on the flashcards.
Swapping the two sides of a flashcard
If you need to convert, say, a French-English Deck to English-French, you can do so from the Compose menu.
Improved file access
It is no longer required to store your documents in a working directory -- VTrain can access them anywhere on your hard disk or your local network.
Refurbished interface
The GUI of the program was entirely revamped, and usability has been improved in many ways. For example, you can enter data simply by pressing the Enter key (instead of Ctrl+Enter), drag & drop from List windows onto the Cardfile panel, use the multiple-level undo & redo facility, etc.