Vocabulary Worksheet Factory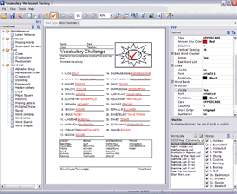 Improve and reinforce the vocabulary skills of your students with challenging and motivating worksheet activities created with Vocabulary Worksheet Factory. With the ultimate in worksheet generation technology at your fingertips, the creation of lesson-enhancing support materials for the classroom will be a lot more enjoyable and a lot less work. You can create individual or class sets of professional worksheets quickly and effortlessly saving valuable preparation time and resources.
Select from 22 unique and effective worksheet activities including word shapes, crosswords, word searches, decoding and matching activities, word jumbles, cloze and punctuation exercises, alphabetical order, cryptograms, and more.



Download Trial 12.7 MB
Software Information
System Requirements
Version:
4.1.9.0

Windows® 7, Vista, XP, 2000
Microsoft .Net Framework 1.1
128 MB RAM or higher

File Size:
12.7 MB
License:
Free to try, $59.95 to buy
Screenshot:
View Screenshot
Rating:
Vocabulary Worksheet Factory Features:
Integrated design environment
Vocabulary Worksheet Factory ScreenshotVocabulary Worksheet Factory employs the latest in design environment functionality. All of the important settings and design elements are at your finger tips in flexible window panes that can be adjusted to suit your work style. See exactly what your vocabulary activity will look like on the printed page as you design it even when you change paper size, margins, or orientation. You can even work on more than one vocabulary activity at a time with the handy tab page view which allows you to easily switch between worksheets at a click of a mouse. And the zoom feature allows you to get a closer look at the worksheets in progress.
Fast and easy
Producing a worksheet with Vocabulary Worksheet Factory is as simple as selecting a worksheet activity type and then adding a word list, sentence collection, or text file. The program then takes over and does all the work. It automatically generates a solution for the activity and lays it out on the page so you can see exactly what the printed worksheet will look like. Every worksheet generation is different. You never again have to worry about giving students a worksheet they have already completed.
Worksheets your way
Generate a basic worksheet and send it to the printer in seconds. But if you want to spend a little extra time, you can customize numerous options to create a very original worksheet to complement, perhaps, a particular lesson theme, grade level, or season. Modify the header and footer or even remove them entirely. Add a picture, a riddle, a quotation, or some special instructions. Change the font, size, or color of the text on the page. And lots more.
Build word lists
Vocabulary Worksheet Factory ScreenshotVocabulary Worksheet Factory comes with a set of word lists with clues to get you started. You can download more pre-made word lists from our Word Lists page. But the real power of Vocabulary Worksheet Factory is in how easy it is to create your own word lists to support your teaching objectives. Open the Word List Editor and simply type in your spelling list for the week or a vocabulary list for a particular lesson topic. Add your own clues or use one of the definitions from the 65000 in the included English dictionary. The Word List Editor even has an automatic spell checker to catch those pesky typos.
Multiple pages
Create multi-page worksheets as easily as single page worksheets. Add an additional header and footer to each page and even add automatic page numbering.
Bad word checker
Check for inappropriate words that might be inadvertently formed in situations where random letters are generated or scrambled. The Bad Word Checker allows you to enter a list of inappropriate words that will then be blocked from forming. And, as an extra precaution, the words you enter into the list are automatically encrypted so that they cannot be viewed by others.
Twenty-two worksheet activities
Create 22 different worksheet activities with Vocabulary Worksheet Factory Please see the descriptions and sample screenshots of each worksheet activity below:

Alphabetical Order: construct an alphabetical order worksheet in which students must sort a word list into alphabetical order. Select between descending or ascending order.
Crossword: create challenging crossword puzzles with across and down clues from any word list. Add hints and word bank as additional solution aids. Same functionality as Crossword Factory 3.
Word Search: generate fun word search activities. Select the directional layout of the words, whether to use just a word bank or add clues, and provide coordinates for easy marking. Same functionality as Word Search Factory Pro.
Decoding: create decoding worksheets that require students to use a decoder to decode the encrypted words. Select from four decoder formats: numerical, alphabetical, letter before, and letter after.
Cloze: generate cloze exercises from any block of text. Hide every 3rd, 4th, 5th, 6th, 7th, 8th, 9th, or 10th word. Add a word bank for extra assistance if desired.
Matching: construct a matching worksheet in which students must match words from the word list to clues or definitions.
Missing Letters: produce worksheet activities that require students to fill in the missing letters in words. Choose between a random number of missing letters, a set number of missing letters, missing consonants, or missing vowels.
Punctuation: create an exercise in punctuation where students must supply the missing punctuation in a block of text. Select which punctuation to remove from the text.
Jumbles: generate a word jumbles worksheet in which the letters of each word are scrambled. Choose from randomly scrambled, split words, and backwards.
Word Links: create a word links worksheet where the beginning of each word must be linked up to the end of each word.
Word Shapes: provide practice in identifying the letters shapes in words.
Lined: A worksheet layout that allows for the development of customized activities. Places each word on a separate line that can be used for any number of additional exercises.
Framework: similar to the Crossword activity, students complete the maze by filling in the framework with words based on number of letters and intersections.
Spiral: similar to the Crossword activity, students complete a spiral maze with words derived from clues.
Magic Square: combine math and vocabulary practice with this activity in which students match words with clues to complete a magic square. Self-correcting in that the magic square columns, rows, and diagonals, will add to the same number with the correct solution.
Multiple Choice: a multiple choice activity where the correct word must be selected from a set of four to match the given clue.
Scrambled Sentences: students reconstruct sentences from scrambled sentences.
Missing Words: students fill in the missing word(s) in sentences from a word list.
Hidden Letters: similar to the Missing Letters activity except that multiple variations of each word are given with a different missing letter in each variation. Great for beginning readers.
Patterns: students complete the letter patterns, e.g. BCEFH.
Alphabet Soup: students must supply missing letters and then find words hidden in groups of letters.
Cryptogram: Entire blocks of text are encrypted and a decoder provided. The decoder can be made as easy or as difficult as desired.