Tinnitus Masker Pro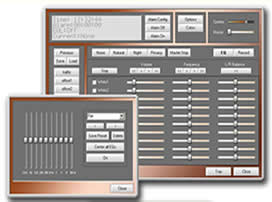 Tinnitus Masker Pro generates various types of noise specifically designed to help mask your tinnitus.
Tinnitus Masker Pro is extremely easy to use and get to grips with, yet versatile enough to cover a wide variety of tinnitus symptoms. You can playback the sounds in realtime for on the spot masking or alternatively record the output to a .wav or mp3 file, ready to be burned to CD. Why spend money purchasing white noise masking CDs when you can create your own, exactly to your requirements!

There are three sections of sounds included, each carefully selected for their tinnitus masking properties.
\ You can select as many of these sounds as you like. There is no limit on the amount of sounds you can have playing together. Each sounds volume can be individually controlled, as can its frequency and balance, so you may pan one sound to one ear, and another sound to the other ear to achieve the desired masking effect for your tinnitus symptoms.

Your settings are automatically saved on exiting the program, and you can easily restore them with one click when you restart the program. You can also save your configurations to a file, to load at any time in the future. So you may save as many different combinations of sounds as you like, and play them back at anytime with one click.

Tinnitus Masker Pro also comes with a built in sound recorder. This enables you to easily create your own custom Tinnitus Masking CDs which can be played in any standard CD player. Also built in is the option to convert your saved wav file to mp3 format, for maximum file size reduction.



Download Trial 16.00 MB
Software Information
System Requirements
Version:
6.10

Windows 98/ME/NT/2000/XP/Vista
Pentium II CPU
64 MB RAM

File Size:
16.0 MB
License:
Free to try, $28.75 to buy
Screenshot:
View Screenshot
Rating :
Key Features of Tinnitus Masker Pro :
Create your own tinnitus white noise masking CDs or MP3s
Realtime playback through speakers or headphones
Transfer your recordings to MP3 player to listen to anywhere
Record to Wav or MP3 format No sound editing experience required
What is masking and how can it help me?

Masking is the use of other sounds to "drown out" or "mask" the annoying noises associated with tinnitus. In the past, sufferers wishing to mask their symptoms usually ended up purchasing many masking CDs and hardware maskers in an effort to find a suitable masking effect for their particular tinnitus symptoms. Tinnitus Masker Pro goes a step further than standard masking products , allowing you to experiment with an infinite number of combinations of sounds and frequencies until you find the best masking effect for your symptoms. You can then play the combination of sounds back in realtime, or record the sound output to wav or mp3.

How does masking work?

Masking is generally successful because the masking sound and the tinnitus sound are vastly different in quality. Tinnitus usually produces a shrill, high-pitched, unpleasant tone. In contrast, masking sounds are typically soothing. Most individuals can and usually do "automatically" ignore certain external sounds. These sounds are ignored if they are not too loud or harsh and if they are relatively constant and monotonous. Ignoring the masking sound, which covers up the tinnitus, means that the tinitus is automatically ignored as well.