SWF Media Browser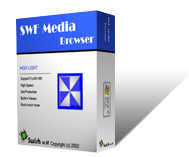 SWF Media Browser is a powerful tool designed to search, manage, view, and play Flash media files. It has a fully integrated workspace that permits you to work efficiently and manage your media files with ease.

A full-featured movie viewer quickly displays your movie in high quality.A built-in thumbnail explorer (with movie previews) makes browsing your computer folders for media files child's play!

The SWF Media Browser lets you find and organize your SWF Media files efficiently. SWF Media Browser also provides many movie manipulation functions, including wallpaper creation, swf to exe, making screen savers, and more...



Download Trial 4.9 MB
Software Information
Recommended Configuration
File Size:
4.9 MB

Intel Pentium or AMD processor.
128 MB RAM.
Windows 98/ME/2000/XP or NT4 SP4.

License:
Free to try, $29.95 to buy
Rating :
With SWF Media Browser you can:
Browse SWF media files with the built-in viewer.
View or play SWF media files with the built-in player.
View Flash movies in full screen model.
Browse SWF media files that are in IE Temporary Internet Files folder.
Build your own favorite folder, and browse SWF media files that are located in this folder.
Build your own music box.
Search SWF media files in your hard disk in seconds.
Extract music from the flash movie.
Play mp3 files or wav files with built-in player directly.
Exe to swf and swf to exe.
Exe to swf in batches.
Capture screen.
Make wallpaper.
Make screen saver.
Mail your favorite movies to your friend.
Add protection and clear protection.
Copy or move SWF media files to another folder.
Rename SWF media files.