SureIT Network Assets Management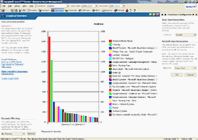 SureIT is a collection powerful network tools that businessmen & administrators would find very useful for productivity, security & network maintenance, integrated into one cost effective, flexible & upgradeable software package.
Business Owners: Computers, state of the art network facilities and the latest software are no longer 'nice-to-have' items; they are critical tools for a business to keep pace in the competitive environment. Regardless of the business sector in which you function, locally, nationally or multi-nationally, SureIT can give you a competitive edge in effective management of your network resource and result in spin-off improvements in internal staff productivity.
Administrators: You run a TCP-IP LAN, computers on every desk enabling your network to function. You pride yourself on the standards maintained and round-the-clock availability of the facility.




Software Information
System Requirements
Version:
1.1.1

Windows 9x/NT/2000/XP/2003
Pentium II or AMD K6 Based Processor.
64mb of Memory.
Any TCP/IP supporting networking connection.

File Size:
9.93 MB
License:
Free to try, $19.95 to buy
Rating:
Key Features of SureIT Network Assets Management :
Easy to Use and very Powerful!
Results in much Better Networking
Improves security & network stablity.
Integrated & bundles tools.
Prevent hardware theft.
Stop internet abuse.
Improve workstation productivity.
Makes IT budgeting much easier.
Affordable & easy to install.
Administration Features:
List all the software & hardware installed on a certain PC in detail!
Report any hardware & software attribute (eg RAM, CPU MHz, HDD Size) from all the workstations.
Add Application Blockers to prevent the workstations from accessing any software program or content you choose.
Establish that all instances where a certain operating system is being used, that the correct 'patches' and 'hotfixes' are in place.
Report on the usage statistics of a certain software package, to justify or otherwise the renewal of licences.
Get flagged to the occurrence of multiple customisable conditions or events in a minimum time frame.
Provide remote access to the above information to selected members of the management team.
Automatically detect the removal or theft of any computer device.
Help prevent any piracy on your network to avoid persecution.
Generate fully customizable report & automatically graph their results.
Save as CSV, HTML, XML, WMF and TXT at any stage in the use of SureIT.
SureIT has been designed to automate all necessary features, such as the updating of client systems automatically.
Take advantage of optional services such as Timesync, backup & database systems.
Very easy to use interface & with tray icon support.
Business Features:
Have you had enough of Hardware and Memory theft?
SureIT monitors all the CPU's Ram Disk Drives Video cards and other Hardware components on your network giving you an immediate alert as to any Hardware changes across your LAN or WAN.
Have you lost Track of your expensive Software installations across your network?
SureIT tracks the software installed, updates to software as well as all those unauthorized installations of software across your LAN or wan. In addition SureIT can monitor installations of software that are not being used, thus saving license fees on software.
Do you need to know what your computer users are up to each day?
SureIT can monitor the nature of the users workstation activity without the ability to monitor content, thus ensuring the users privacy is not violated. In addition users can receive a summary report of their usage, thus improving self-compliance within the company.
Do you need a comprehensive report of your IT hardware without doing Physical checks?
SureIT can report on the hardware and software over a LAN or wan to assist in budgets, hardware replacement and asset verification.
Do you need to ensure that all computers across the network have the latest patches?
SureIT can alert the network administrator as to exactly which machines have not been updated with the latest software.
Do you need time synchronization across your network?
SureIT can ensure that time and dates are kept in synchronization with the file server at all times.
Do you need to know how much time has been spent on a particular project for billing purposes?
SureIT can report on the man hours incurred to assist in allocation to cost centres in multi project environments.