Stars 3 Screensaver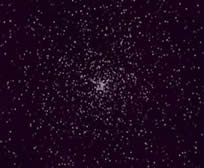 The Stars 3 Screensaver is an impressive and sophisticated replacement for the simple, 16-bit "Starfield" screensaver which comes with Windows™. It is beautiful and entertaining. You will be able to configure it many ways to provide you many hours of enjoyment. As with other screen savers, when your computer is idle for some time, the Stars 3 Screensaver™ will show a simulation of the space flight. Brightness of each star depends as on its own stellar characteristics as well as on distance from the view point. Flight rotation capability gives a dramatic and realistic and fantastic animation. The more futuristic view may be achieved with interstellar gas clouds simulation.
Rotation during flight. This provides very impressive animation. You will fly through space with some amount of rotation.
Non-linear flight direction. It is possible to configure this screensaver so, that flight will no more straight, because course of the starship will be changing smoothly. Amount of roaming and frequency of course changes are adjustable, and can be set in wide range of values.
Realism. Star size does not change during approaching to it. It is real, because angular size of star is very small and becomes visible on extremely close distances, like our Sun, for example.
In addition, it can play an audio file during operation. We have included one popular sound, which is well known from science fiction movies about space voyages, travels, star wars, etc.
The Stars Screensaver is a modern and beautiful screen saver that will turn a monitor of your PC into a front-side window of the fantastic spaceship, doing its way through the far galaxies with a speed of light (or even faster).
If you have a powerful computer and it has more than one monitor, you could configure Stars 3 Screensaver to view your flight on different screens. This will produce unrepeatable feelings in the time when you will decide to do some rest off your work.
The Stars 3 Screensaver has many settings and options that allow you tune parameters of animation. If your PC is not powerful enough, configuration changes will be required too. But default settings will provide high quality and optimal picture.
Did you ever see the Starfield Screensaver? It comes with Windows since the times of 16-bit operating systems. Your screensaver can show something like that, but the image it produce, will be much more detailed, smooth, and even colored.
You will be able to view up to 30,000 stars simultaneously. The natural stars are not white. They include red giants, yellow, white, and blue stars and, of course, "black holes". Your screensaver can simulate colored stars.
The space is not empty absolutely. It is full of interstellar gas clouds. The Stars 3 Screensaver will simulate them too.
Why "Stars"? You may read it as "Stars-free-screensaver" – screen saver without any show-stars, like B.Spears or A.Kournikova. The Internet is full of such cheap slideshow screensavers and most of them are full of spyware. Our screensaver does not contain stars. No spyware and no adware. Nothing else but space and suns. Billions of suns.

Software Information
System Requirements
Version:
2.50

Windows 8/7/XP/Vista
Pentium II CPU
512 MB RAM

File Size:
1.64 MB
License:
Free to try, $14.95 to buy
Screenshot:
View Screenshot
Rating :
Key Features of Stars 3 Screensaver:
Up to 30,000 of simultaneously visible stars;
Interstellar gas clouds;
Simulation up to 1000 steps per frame;
Flight rolling up to 1 turn per 5 seconds;
Non-linear flight route;
Motion smoothness: up to 200 fps;
Antialiasing modes up to 8x8 pixels;
Background sound playback;
Size of the stars remains constant;
Independent simulation on multiple monitors;
Selectable screen resolution and color depth;
Low CPU load – video card does all.