Star Defender 4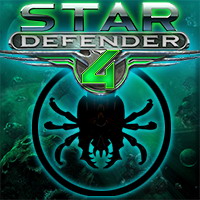 Who can give a dare to numerous hordes of Inserctus and to protect the native Galaxy? What do the Black Holes hide inside them and where do they lead? To answer these questions one should become a hero who is brave and strong enough to break this dark silence. Humanity has nothing to do but to keep their faith and to believe that their first pilot will be able to accomplish his task and to come back home safe and sound. Hold your breath.
Breathtaking gameplay that still has all the best features of Star Defender series. Splendidly craft graphics and music. Tons of new enemies with a unique style of behavior and new ways of attacking. New weapons: machine-gun, saw, flame thrower, acid bomb and cutter! And also the best weapons from the previous game: parasitron, lasers, infector, ball lightning, missiles, homing laser and barriers! More that 100 levels, 8 original missions and of course huge impressive Bosses in the end of every mission! You'll get the real pleasure destroying them!
If you need a breathtaking game that won't let you to let a mouse out of your hands to have a cup of coffee, which got already cold…If you want to feel as you are the Intergalactic Disinfector Number 1 who craves for taking vengeance on that disgusting annoying insects…If you long for the real war – then this game is for you!!




Software Information
System Requirements
Genre:
Arcade

Windows 8/7/XP/Vista
Pentium II 266 or better
DirectX compatable video card
DirectX 7.0 or higher

File Size:
17.4 MB
License:
Free to try, $9.99 to buy
Screenshot:
View Screenshot
Rating :
Game Features:
Eight missions with a huge boss at the end of each one
More than 100 breathtaking levels
At just under 11 megs, it's a quick download
Unlimited game time
Free upgrades to newer versions
Full technical support