SQLite Analyzer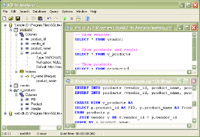 Need a tool that would manage SQLite databases quickly and easily?
SQLite Analyzer is a comprehensive SQLite database processor that allows editing or modifying SQLite tables visually without any risk of losing data. Plus, there are no table size restrictions! Add tree-like database structure display, easy database navigation, syntax highlighting, instant script generation and you will understand why SQLite professionals are switching to SQLite Analyzer in droves. In addition, SQLite Analyzer is capable of connecting to multiple databases simultaneously and displaying multiple record sets. The program also manages triggers and indexes. Importantly, the program is fully customizable. You can choose font and color properties for the sql editor and the result grid, save and load SQL scripts to/from files, view query result in the grid or in the text.
SQLite Analyzer is incredible easy to learn and use. Any person familiar with SQL can start operating the program right away without special training or wasting time reading manuals.





Software Information
System Requirements
Version:
3.0.4.0

Windows 7/Vista/NT/2000/XP
Pentium or similar processor
64MB RAM
SQLite - sqlite.dll version 2.7.2 or higher

File Size:
2.99 MB
License:
Free to try, $60.00 to buy
Rating:
SQLite Analyzer Features:
Support of all SQLite commands. It is possible to execute all SQL operators and commands of SQLite. On win32 platforms, SQLite Analyzer is a complete alternative for the console utility sqlite.exe and provides all the advantages of graphical interface at the same time: syntax highlighting, font and color customization, clipboard support, multilevel undo system, visual result display ...
Visual database management. It is not longer necessary to write long scripts to create (edit, delete) tables, indexes, triggers. All these and other operations can be performed with a few mouse clicks.
Import data from other databases. It is possible to import data from other databases via OLE DB providers.
Registration of frequently used databases in SQLite Analyzer. To work with SQLite, you have to specify the path to the database. This approach is not convenient when you often work with some database. SQLite Analyzer makes it possible to specify the path just once when you are registering the database. It will always be available afterward.
Displaying the database structure in the form of a tree. The object structure in registered databases is displayed in the form of a tree: the list of tables and views; column names, data types, default values; triggers, indexes.
Quick generation of INSERT, UPDATE, DELETE, SELECT scripts for the selected object. Such a script can be either placed onto the clipboard or opened in a new window for execution.
Visual creation and modification of table structures without losing already existing data. SQLite does not support the ALTER TABLE command that is why when you modify the structure of a table (add a new column, for example), you have to delete the existing table and create a new one after that. SQLite Analyzer will automatically delete the old table, create a new one and move the data.
Editing data in tables of any size.
Managing indexes and triggers. All properties of indexes and triggers are specified with a few mouse clicks.
Using its own «sqlite.dll» libraries. SQLite Analyzer has one of the last sqlite.dll versions included in it. Nevertheless, if you need to use your own sqlite.dll version, it is enough just to copy your sqlite.dll version to the working folder of SQLite Analyzer.
Displaying the query results in the form of a table or text. It is often necessary to run debugging scripts in the process of developing and debugging an application. SQLite Analyzer allows you to execute several SQLite commands at a time, including several SELECT operators. In this case several query results will be displayed. The query result can be presented in the form of a table or text. No matter in which form the results are presented, it is always possible to copy them onto the clipboard and save them to a file.
Executing scripts in a separate thread. SQLite commands are executed in a separate thread. This makes it possible to run several scripts at a time. You can interrupt a script that is executed for too long.