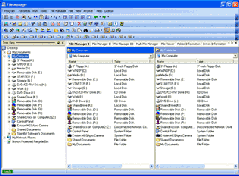 Sprintbit File Manager

File Manager For Windows 98/ME/NT/2000/XP is a application you can use to view and organize your files and directories. You can use File Manager to perform a lot of disk, directory, and file management tasks.
File Manager includes: CD-DVD Writer, FTP Client, Zip Archiver, Picture Viewer, Mass File Renamer, Folder Synchronizer, Link Validator, Search & Replace, Encrypt & Decrypt, File Searcher, File Preview, Set Attributes, Split - Merge and many other features for file's manipulation.





Software Information
System Requirements
Version:
New

Windows 98/ME/NT/2000/XP/Vista
Pentium or similar processor
64MB RAM

File Size:
11.28 MB
License:
Free to try, $33.00 to buy
Screenshot:
View Screenshot
Rating:
What can Sprintbit File Manager do for you:
Perform all standard file operation's like copying, moving, renaming, deleting, creating folders, change file names or extension, change volume names, creates new empty files, shortcuts to existing files and much more....
View selected file contents or detailed information about file by use of built-in File Viewer. File Viewer recognizes a lot of file types, and it will show you the contents of any text file type, play audio or video, view playlist, show pictures, show all files that can be viewed by Internet Explorer or Microsoft Excel.
Write CD Audio & Data discs. CD-DVD Writer let you write fully compatible ISO9660 / Joliet data CDs. Supports BURN-PROOF for error free recording. Write ISO images for raw writing by other applications. Import and write ISO images from other applications. Import multi-session ISO/Joliet tracks and merge new files with an existing session and more.
View & manage the contents of your computer in 10 File Browsers and Tree View control.
Execute system commands like delete files from Recycle Bin, runs Control Panel items, shutdown, reboot computer, registering ocx, dll and many more..
Run all files and documents by double click on the file in the File Browser.
Use standard keyboard shortcuts like such keys as Ctrl+C (Copy), Ctrl+X (Cut), Ctrl+V (Paste) and F5 (Refresh).
Use Drag & Drop method, with the mouse you can drag files directly between Browsers. You can also Drag & Drop files to and from another Windows application as well.
Use automatic context menu processing. When you right-click on a selected file or group of files will display a standard alike Windows Explorer pop up-menu.
Use Favorites & Run menus to build a list of your shortcuts for easy access to your favorite files or paths.
Use file filters to show different contents of browsers. Only files that match the selected file filter are displayed in the browsers.
Set different view styles, changeable fonts, colors, borders, menus, toolbar's. Sortable browser columns. Display file icons which are associated to that file in the Windows system.
Scrub files, delete files completely without any trace in your computer.
Clean files.
Set file attributes and dates, support mass file operation as well.
Check if file's fits on selected destination folder, drive.
Use comparison features like Compare folders contents, compare files and Folder Synchronizer utility.
You may check your shortcuts (.LNK or .PIF) on your computer to see if it's valid, and for a valid item, in addition you can delete invalid links.
Join files together.
Erase directory command deletes all files in a specified directory and its sub directories but will leave the directory structure itself intact.
Split & Merge files, this feature works with removable and hard drives.
View File dependencies.
Use Code Signing interface for signcode.exe a Windows signing tool.
Rename files on your computer with batch operation and many styles.
Search your computer, File Searcher allows to search for specified files in your computer, returns the number of files/directories matching a specification and attributes. With this feature you can make a list of specified files.
Search & Replace multiple files at once with the source one. This tool allows you to search through folders for specified files and replace all of them with the one source file.
Print documents, graphics on any printer installed on computer.
View, edit and convert pictures.
Creating and decompress ZIP & GZIP archives.
Encrypt & Decrypt files with use all popular algorithms.
Transferring files to and from remote server by use built-in FTP Client.
Copy or move multiple files to different locations at once by use of Multi Copy & Move utility.
View Drive's Information on Charts & Grid.
View Folder Information on Chart & Grid.
Manage your system startup programs by use of built-in Startup Manager.
Connect to directories shared on the network, use network drives.