Solitaire Plus! for Mac OS X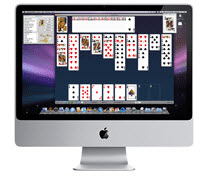 Solitaire Plus! for Mac OS X 3.0 is now available! It is a fully-featured solitaire game collection designed for MacOS X. Enjoy a generous collection of 30 challenging solitaire games on your Mac mini, iMac, PowerMac, iBook, or PowerBook. Solitaire Plus works on all Apple hardware that runs MacOS X.
Solitaire Plus contains 30 variations of solitaire, including the Klondike, FreeCell, and Spider favorites. Automatic game saving/restore including complete undo/redo history. The cards look realistic for a refreshing change. Solitaire Plus also provides convenient features not found in other games.
Software Information
System Requirements
Genre:
Card

Mac OS X 10.4 - 10.8 or Later
512 MB RAM or More

File Size:
7.76 MB
License:
Free to try, $14.95 to buy
Rating :
Game Features of Solitaire Plus! for MacOS X:
Great Artwork
Solitaire Plus provides large, realistic card artwork for displays with 1024x768 or higher display resolution. Solitaire Plus is designed for and looks best with large or wide-screen monitors.

Smart-Dragging
Solitaire Plus improves the dragging operations during game play by scanning the game window for a valid position for the card (or a pile of cards) being dragged, and then automatically moving the card if dragging is terminated before hovering over a specific pile. The smart-dragging feature is especially useful on notebooks. Most moves can be accomplished by simply nudging a card smart-dragging will make the move automatically.

Any Image as a Card Back
Solitaire Plus allows you to use any image on your computer as a custom card back for the deck.

Custom Backgrounds
In addition to allowing you to use any image as a card back, Solitaire Plus supports the use of any image as a tiled background. You may also use a solid color background. Any colors you can define in the standard Apple color panel can be used.

Control the Spacing of Cards
Solitaire Plus provides you with control over the spacing of the cards in the tableau piles. Adjust the card spacing to your own preference to view as much or little of the covered cards as you desire. Regardless of your spacing preference, Solitaire Plus will automatically adjust the card spacing to always keep all cards visible in large tableau piles.

Game Statistics
Statistics are collected for each game in Solitaire Plus. The statistics include the following:

Number of games won
Number of games lost
Total number of games attempted
Highest losing score
Average score of games lost
Longest winning streak and ending date of the streak



Comprehensive Help
Solitaire Plus provides a complete on-line help system integrated with Apple's HelpViewer. The rules for each game are included with a diagram of the game window layout and a glossary of terms. Help is also provided for the features and functions of the game interface. Additional support is also available via e-mail.