Wing FTP Server for Linux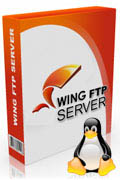 Wing FTP Server for Linux is an easy-to-use, highly functional and secure FTP Server solution for Linux. this software supports a number of file transfer protocols, including HTTP, FTPS, FTP, SFTP using SSH2 and HTTPS. it can giving your end-users flexibility in how they connect to the server. And it provides admins with a web based interface to administer the server from anywhere. You can also monitor server performance and online sessions and even receive email notifications about various events taking place on the server. The supported transfer protocols are listed as follows:
FTP (File Transfer Protocol)
FTPS (FTP over SSL)
HTTPS (HTTP over SSL)
HTTP (Hyper Text Transfer Protocol)
SFTP using SSH2 (File Transfer over Secure Shell)

Now, Wing FTP Server for Linux is free to try and just have a try right now.
Software Information
System Requirements
Version:
4.0.9

Linux 32-bit with kernel 2.6.x
512M RAM and more

File Size:
9.84 MB
License:
Free to try, $199.0 to buy
Screenshot:
View Screenshot
Rating :
The Main Features of the Linux Wing FTP Server:
Multiple Protocols
Supports HTTP, HTTPS, FTP, FTPS(FTP with SSL), and SFTP(FTP with SSH).
Web Based Client
Access your files anytime, anywhere.
Remote Web Based Administration
Administrate your file server anytime, anywhere.
FIPS 140-2
Uses OpenSSL FIPS 140-2 validated cryptographic module (certificate #1051).
Multiple Domains
You can run multiple virtual servers on the same IP address.
Programmable Event Manager
Executes Lua Scripts, sends out emails and implements third-party software.
Support for iPhone/Android
This feature aims to help iPhone or Android users to enjoy easy and convenient access to files anywhere.
Multiple Files Upload/Download
You can upload or download multiple files at the same time.
Task Scheduler
Uses the Lua scripting tasks to appoint an action at a specified time.
IPv6 Support
You can add IPv6 listeners or IPv6 access rules like IPv4.
Screen Reader Support
Screen reader is now supported (for the Web Client). We have tested it successfully with JAWS and NVDA.
Administrator Console
A powerful console tool for administrator(unix shell alike).
Real-Time Information
Enables you to monitor your FTP server in real-time. You can monitor each user connected to your server and gather detailed information about them.
Multiple Authentication Types
XML files, ODBC database, Mysql database, LDAP and Windows Authentication (NTLM or Active Directory).
Application Programming Interface
Provide a set of APIs that can be called in Lua Script.
Virtual Directories
Allows you to map virtual directories to physical directories, and you can also use UNC path or mapped drives for virtual directories.
Ratio, disk quota system
Every user can be assigned individual disk quota, ratio and bandwidth.
Customizable Logo
You can define a customizable logo for every domain.
Multiple Languages
Now support 13 languages.
Zip/Unzip
The direct zip/unzip of files on server is possible both for Web Client and FTP client.
Graphs Chart
The graphs chart can reports last 5 minutes, 5 hours or 10 days traffics for your domain.
MODE Z
Faster data transfers through data compression.
Advanced Security
Multiple mechanisms are implemented to tighten accounts security.
IP based access
Choose who can and who can not connect to your server (user account or server level).
Anti-Hammering
Automatically detect and block multiple connection attempts to for instance avoid brute force attacks.
Time of day access
Schedule your bandwidth usage per day, per week, or per month.
Accounts expiration
Do not let old accounts be available forever, just set them an expiration date.
Maximum connections limitation (IP, domain, user)
Manage your network and system resources efficiently.
Custom commands and messages definition
Expand available commands and messages in your FTP Server and customize it to your needs.
User Group
Users can inherit their settings through groups for quick configuration and easy maintenance.
SFV Checker
Fast SFV checking on server side.
RELATED SOFTWARE DOWNLOADS FOR WING FTP SERVER FOR LINUX