TradeMax Premier Edition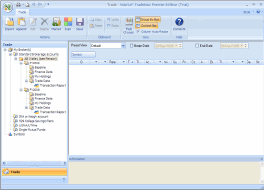 TradeMax is a full featured tax software specifically designed for active investors or traders to manage their trade data maximize their gain/loss strategy, prepare their Schedule D. It can import trade data from all kinds of formats files, monitor realized/unrealized gains & losses for current positions, adjust wash sales events, report capital gains/losses in printed Schedule D format or export to popular tax software such as TaxCut, TurboTax.With TradeMax you can
Import trades from file or copy and paste from Broker Website TradeMax provides you the facility to Import copy and paste of trades from your broker website or importing trades from your broker's Excel file or CSV file without any modification.
Manually enter trade data into a new record in a data file and handle unlimited number of transactions
Find trades with the find filter and Add, delete, and edit them just like you do it in MS-excel as usual
Handle your wash sale events easily
File their capital gains and losses with the IRS quickly by running a Capital Gains and Losses report
Analyze your trading performance easily with the help of Trade Detail, Summary, Performance, and Chart reports
Send the desired data/Schedule D reports to multiple professional tax software or email to the recipient
Analyze and manage investments and portfolios with a wide variety of easy to use graphs and reports. In addition, you can track of investments easy by updating prices and retrieving transactions from the internet with the push of a button.




Software Information
System Requirements
Version:
2.0

Windows 8/7/XP/Vista
64 MB RAM
Pentium II CPU

File Size:
9.70 MB
License:
Free to try, $297.95 to buy
Screenshot:
View Screenshot
Rating :
Feature of TradeMax:
Import almost any data You can import Quicken, TradeStation, Excel, or Text files etc. Moreover, you can also import any transaction in the broker account like Stock Splits, Stock Dividends, Spinoffs, and Mergers.
Support various account types TradeMax can support different account type including Standard Brokerage account, IRA or Keogh account, 529 college saving plans account, UGMA/UTMAs account, and Single Mutal Fund account.
Auto match your trading data TradeMax can auto assign short trades and Convert short / long with one transaction with one click of the mouse when you import your data
During the import, TradeMax automatically does FIFO trade matching for IRS Gains & Losses. In addition, you can match your trade force by the tax lots function
Supports stock, options, future, single-stock-future, currencies to convenience you active traders' portfolio managing
Calculate all most all kinds of wash sales Calculate wash sales between short and long trades, and between substantially can calculate wash sales identical securities such as stocks and options as required by the IRS. In addition, it can properly calculate wash sales on an unequal number of shares.
Supports multiple portfolios and different account among different people or brokers and combines these accounts and portfolios into one report
Manage your portfolios You can monitor multiple portfolios and watch lists with different parameters, including buy & sell, gains & losses, stock splits & dividends and total portfolio value for both long and short positions. In addition, you can manage your portfolios with the help of various reports.
Review your trade historic records and holding position of your portfolios in your Calendar window
Easy-to-use interface Most functions can be awakened with a simple mouse click or menu selection. You can conveniently change its skin through our color scheme system and group the trade data by dragging the portfolio column header to the grid above in the grid window.
RELATED SOFTWARE DOWNLOADS FOR TradeMax