TeachWord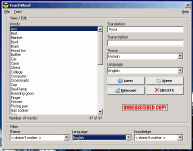 TeachWord is a personal dictionary-tester software for learning of foreign languages. It is developed to accelerate studying of foreign languages. With its help it is possible to store easily a plenty of words which you have studied or want to study in the future.
The main stage of any learning is self-checking, and it is the point on which you will be helpless without TeachWord. This tiny yet powerfull software has a set of functional features in its arsenal, allowing you not only to store learned foreign words in easy and comfortable way, but also run several types of test.





Software Information
System Requirements
Version:
8.0

Windows 2000, XP, 98, ME, Windows Vista
Pentium II CPU
256 MB of RAM

File Size:
3.19 MB
License:
Free to try, $19.85 to buy
Screenshot:
View Screenshot
Rating :
TeachWord features:
Languages
You can add as much languages as you want. All of them will be stored in your personal dictionary.
Words
Each word always belongs to certain theme and certain language. The word is characterized by the name, translation, transcription, a theme and language that it belongs to. The quantity of words in a dictionary is limited only by memory of your computer.
Themes
You also can add themes to arrange words in the dictionary. Themes are very useful when you have a lot of words, because you can adjust TeachWord for testing on a certain theme, and check up your knowledge more precisely.
Testing
You can perform several types of self-testing: word-check and translation-check. In the first case the TeachWord will provide a set of possible translations, in the second one — it will ask translation for set of words.
Statistics
Results of each your testing is stores by TeachWord. It is possible to view the information on any Language or Theme to see how good is your knowlege. Also you can see the statistics for any word in the dictionary: how many times it got in tests, how many times you have answered correctly and how many were mistaken.
Reports
TeachWord is able to generate reports based on stored statistics. Report can be created in text or HTML format and then it is possible to print it easily.
Import
TeachWord is able to import dictionaries of other users. If you want to import a dictionary — just specify a folder where it is located. In import dialog you can specify the language and theme you want to import, or import the whole content of the dictionaty.
Options
TeachWord has very flexible adjustments on testing. You can choose type of the test (read details above), set the time limitation and specify how many variants of answer to display during the test. Also TeachWord allows you to protect your dictionary with a password, so you may be sure about your dictionary safety even if child will play on your computer.
Speed and efficiency
It is really as fast as it possible. You will never experience any slowdowns even if you will have plenty of words in your dictionary. You may do million changes during your work with the program, but only on start and on exit TeachWord will access a disk — this behavior allows to use it effectively even if it is started from diskette.
RELATED SOFTWARE DOWNLOADS FOR TEACHWORD