SyClone Builder 2009 Professional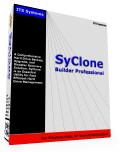 Reduce the risk of data loss to your Server or PC with an affordable and powerful Imaging, Cloning, Copying, Upgrade, and Multi-Cast Software.
SyClone Builder 2009 Professional backups the entire drive, system and in-use files to reduce the risk of data loss to your Server or PC.
Is your data safe? Think about it, if you lost all your data right now, what would you do? Digital family Photos, Music Collections, Tax information, Videos, Critical Business Records, Years of Emails, Your favorite games and applications, all on your hard drive and in digital files.
Make a bootable backup before installing Windows Vista or other software so that you can rollback instantly. No matter what changes are made during the install, you have the peace of mind that you have a secure bootable backup of your working system. No need for proprietary viewers, all files are viewable using Windows Explorer on the backup drive.




Buy Now $49.95 USD
Software Information
System Requirements
Version:
2009

Windows 2000/Vista/XP/2003
128 MB of RAM

License:
Free to try, $49.95 to buy
Rating :
Key features of SyClone Builder 2009 Professional:
Backup the Entire Drive, System and in-use Files!
Upgrade your old small hard drive to a new larger hard drive!
Clone the Drive to an External Drive USB, Firewire,...
Device independent, Works with Disks or Interface types as long as Windows recognizes them. IDE, ATA, SCSI, SATA, or SATA II, PATA disks, and USB or Firewire, Flash Drives!
Script Wizard - Allows for easy setup for common tasks!
Supported Operating Systems: Windows XP, Vista, 7, 64, 2003/2008 Server!
No Need to Restore - Cloned Drives are Directly Bootable!
Completely from within the Windows environment, no Startup CD/DVD needed!
Supports Single Partitions as Large as 2TB and Arrayed Drives as Large as 256TB !
Easy to use interface!
Use to Deploy your Windows Installation to a new Machine!
Works in the Background, Tray Icon!
Full Access to all files and data on the backup drive!
If you need access to a single folder or file it's there ready for you!
Reads and attempts recovery of drives with bad sectors!
Will not stop if bad sectors are detected!
Disks are copied and verified (bit-by-bit)!
The copied drive is so exact you could use it for Forensic Investigation!
Fast - Data Transfer Rates of 7GB/Min and Above (Only limited by installed hardware)!
Differential/Incremental DriveCopy!
Multiple Instances can be Running Simultaneously!
Can be Installed to and Executed from a Network Drive!
Hardware (RAID) and Software (Dynamic) arrays are supported!
Copy a sequentially arrayed RAID drive or dynamic drive to a single or basic drive!
DrivetoDrive (d2d) Copy Mode!
Disk-to-Disk (D2D) Copy Mode!
Volume-to-Volume (V2V) Copy Mode!
Scripting Engine for Maximum Flexibility!
Resize Volume feature allows you to decide whether a drive is used for backup or upgrading. Can also resize other volumes with open space!
Drive setup tools so you can easily setup a raw disk out of the box!
Flexible, Definable Scheduler!
Loop Scheduler for maximum flexibility!
VolumeImage Capability creates Images that can be stored on DVD5, DVD9, or a Disk locally or across a Network!
Advanced Drive setup tools with the flexibility adjust all aspects of the Drive setup process!
Multicasting - Why spend $800, $1200, $1600 or even more for a dedicated disk duplication station when you can use SyClone Builder and a spare computer to target up to 12 Disks or 16 Drives!
RELATED SOFTWARE DOWNLOADS FOR SYCLONE BUILDER 2009 PROFESSIONAL