SWiJ SideWinder Personal License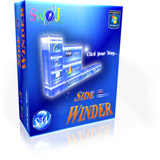 SWiJ SideWinder is an exceptionally powerful multipurpose Windows Quick Launcher program which allows you to easily launch Applications, Websites, Shortcuts, Folders, Document Files, Photos, Music and Videos with just a click. It can even be used to store your frequently used Texts such as Email addresses and personal information inside launch Buttons and then paste them to your Web browser or Text Editor with a single click.
The SideWinder also comes with a Quick Access Side Bar which has all the important Windows functions like Show Desktop, Shutdown and Restart, Task Manager, etc. The Side Bar also has special buttons to launch tools such as Calculator, Paint, Notepad, etc. without the need to open the Start Menu.
Software Information
System Requirements
Version:
2.4.1

Windows XP or Latest Operating System
Hard disk : 20 MB or More
Screen Resolution : 800 x 600 or Higher

File Size:
4.72 MB
License:
Free to try, $19.95 to buy
Screenshot:
View Screenshot
Rating :
SWiJ SideWinder Main Features:
Launch Applications
Quickly launch executable Applications, Games and Shortcuts with just a click. Easily drag & drop the Icons of your favourite programs over a suitable Category and SideWinder will automatically store the program as a launch Button. Open the relevant Application faster than any other method available in Windows by clicking its Button.
Launch Websites
Open your favorite Websites and frequently used Internet Shrotcuts using your default Web Browser by SideWinder's special in-built URL feature. You can either drag & drop Internet Shortcuts to the Categories or manually enter inside the Buttons. You can also add special icons to distinguish the Websites as shown in the samples.
Open Files and Documents
Place your often used Files and Documents as Buttons in SideWinder and launch them at your convenience. You can also put your music files according to their Albums, Genre, etc. in separate Categories and launch them as you like with just a click. All you have to do is just drag & drop the Media Files or the Folders that contain them, on a suitable SideWinder Category and everything will be stored as launch Buttons.
Open Local and Network Folders
You can add any Folders in your local machine or from any other Network location which is linked to your PC, as quick launch Buttons in SideWinder. Drag & drop them as you would with Files and they will be there for you to instantly launch them without searching the locations through Windows Explorer again and again. You can also add Drives and Removable Devices such as USB pen Drives to the SideWinder and whenever they are plugged-in to your computer they can be accessed through the launch Buttons instantly.
Paste Text Snippets While Typing & Fill Forms
Store all your frequently used Texts such as your Email Addresses, Full Name, Home Address, Contact Numbers, etc. inside SideWinder, and you can paste them to your Web Browser or Text Editor instantly whenever you need. Use the special Text feature inside the Buttons to save Texts and you will find the importance of this feature when Browsing the Internet or Editing Documents. You can also Preview the Text Snippets Instantly.
Launch Windows Tools
The built-in Quick Access Side Bar helps you to launch important Windows tools such as Calculator, Paint, Notepad, Media Player, Email-Client , Control Panel, Internet Explorer and My Computer immediately with a click. All these are at the tip of your finger and you do not have to worry about clicking the Start Menu again.
Perform System Functions
SideWinder allows you to perform some important system functions such as Show Desktop, Shutdown & Restart, Switch User & Log Off, Sleep & Hibernate. Also you can open the Task Manager with a Right Click on the 'Show Desktop' Button.
Search the Web Instantly
With SideWinder's integrated Web Search Tool you can instantly search the web using world's best search engines such as Google, Yahoo, Bing, etc. You can also search Wikipedia, YouTube, Facebook, etc. using the same tool with just a click. Also navigate to a web page instantly by using the Address Bar and get instant translations of web pages and websites upto 53 languages with a tap of your Mouse.
Built-in Online Dictionary and Translator
The SideWinder also comes with an integrated online Dictionary and Translator Tool which you can use to instantly get the meanings and translations of a word or a phrase in 17 languages with just a click. The tool is powered by the famous Babylon dictionary and translator which is used by millions around the globe.
My PC Tool
With SideWinder's new My PC Tool you can Quickly Turn Off your Monitor Screen, Open DOS Command Prompt, Quickly Open Physical & Logical Drives, View Free Space and other information of available Drives and Open their Properties Window, Open & Close Doors of CD/DVD Drives, Remove/Eject USB Drives with one click, Open/Empty Recycle Bin, Open and Execute system applications and commands using the Built-in Run Command Tool with pre-loaded commands.
Instant Picture Preview and Full Screen Image Viewer
View instant Preview of your Photos from your Albums you put in the SideWinder as Folders, even without a single click. You can view all major image formats like JPG, GIF, PNG, BMP, etc. and also Preview them one by one in Full Screen very easily.
Instant Audio Preview and Jukebox
Preview your Music as you hover the Mouse over the Audio files you put inside the SideWinder as Folders and Play your Audio Albums with the built-in Jukebox which can also display the Tag Information of your MP3 and WMA files as they play.
Instant Video Preview and Full Screen Video Player
Another fascinating feature of the SideWinder is its ability to show instant Preview of Video files and Play them in Full Screen like a professional Video Player. You can maintain your Video Albums inside the SideWinder and Play all major Video Formats like AVI, WMV, MP4, FLV, etc. without the need of opening any other Media Players.
Built-in Scientific String Calculator (SSC)
With SideWinder's new built-in Scientific String Calculator you can do extra long calculations with extra ease. Almost similar to a professional scientific calculator the SSC offers evaluation of long length of additions and multiplications along with a list of scientific functions which you'll never get with any standard desktop calculators.
Built-in ShutDown Timer
With SideWinder's Shutdown Timer you can automate the system processes like Shutdown, Restart, Hibernate, Lock, etc. as for your specific needs. You can also time the launch of external Applications with this sophisticated tool.
Rapid Windows Switching Utility
The Switch Window utility provides a useful and the fastest possible way to switch between running windows on your PC even without a single click. Also quickly perform Close, Minimize, Maximize and Restore functions on opened windows easily. You can also cycle through your Web Browsers' Tabs easily with this tool.
RELATED SOFTWARE DOWNLOADS FOR SWIJ SIDEWINDER PERSONAL LICENSE