SunRav TestOfficePro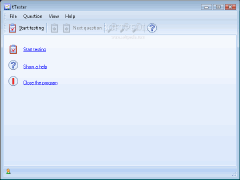 SunRav TestOfficePro is a comprehensive, professional software package for the creation, administration, evaluation, and archiving of tests and test statistics. Bundled in this three-part package are TestMaker, for test creation; Tester, for test administration; and TestAdmin, for test evaluation/analysis and user or group administration. TestMaker lets you create multiple-choice, true/false, and fill-in-the-blank exams, with the option of adding audio files (.wav, .mp3), video files (.avi, .mov), images (.bmp, .gif, .jpg), and any OLE objects to each question. TestAdmin allows you to track user and group progress, create/print detailed user-progress or test-evaluation reports, and export your reports as Word, Excel, CSV, even HTML documents. All information is ciphered by methods of proof cryptography. This trial version limits created tests to twenty questions, limits administration to ten users and three groups, and prevents you from editing results. TestOfficePro is a real multilingual software supports English, German, French, Italian, Russian, Lithuanian, Latvian and Ukraine languages now.





Software Information
System Requirements
Version:
5.3

Windows 98/2000/XP/2003/Vista
128MB RAM

File Size:
10.0 MB
License:
Free to try, $49.95 to buy
Screenshot:
View Screenshot
Rating :
Key Features of SunRav TestOfficePro:
Overview
You can use TestOfficePro to create school tests, college tests, employee tests, psychological tests etc.
Security
Test data and testing results are encrypted using strong encryption methods. They can't be altered or falsified. Moreover, you can set password for edit (to protect the test structure, correct answers etc. from viewing, and password for open (to prevent test from being taken without your permission)
Visual testing
Questions and answer variants can be formatted in the powerful built-in text editor similar to MS Word in capabilities and user friendliness. You can use it to enrich your test with pictures, formulas, charts, tables, audio and video, HTML documents and OLE documents.
Various question types
five question types are supported: Multiple Option. This question type consists of several options to pick from with only one option being correct; Multiple Response. This question type consists of several options from which one or more choices can be selected; Text Input. This question type gives a text field to type answer in. Powerful template language can be used to determine whether the answer is correct; Matching. This question type gives two list of items to match with each other; Item Arrangement. This question type gives a list of items to arrange in the correct order.
Using topics
You can break a test into several topics. Then, the results of testing can be determined individually for each topic and for the test as a whole.
Question shuffling
You can shuffle questions of the test into a random order. Moreover, you can specify the number of questions per topic that will be presented to a user. Say, each topic contains 100 questions. If the number of questions for testing is set to 10, questions sets that users receive will vary a lot. In addition, answer variants can also be shuffled.
Adaptive testing
The order in which questions are presented need not be linear. It may also depend on the answers given.
Question weight
Every question and answer variant can have its own "weight", so easier questions if correctly answered will yield less score than harder ones.
Question comments
Every question can have comment attached to it that can contain various information.
Different ways of responding
user's answer are supported: Next question is asked without doing anything special; Message indicating whether the answer was correct or not is displayed; A document related to the question is displayed. It can be, for example, a detailed description of the reason the answer was incorrect and some additional information on the topic.
Time-Limit
You can limit the time of the whole testing or on a per-question basis. Different time-limits can be assigned to different questions.
E-book integration
Tests created with TestOfficePro can be integrated with e-books created with SunRav BookOffice.
Easy install
There are several ways to install the software: using SunRav TestOfficePro installation package , using tTester's installer or just merely copying required files.
RELATED SOFTWARE DOWNLOADS FOR SUNRAV TESTOFFICEPRO