STOIK Imagic Premium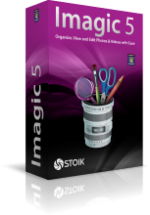 STOIK image editing program - easy image viewer and pics editor, video editor. Quick to learn and easy to use, STOIK Imagic makes managing your photos and videos fun. Bundling a blazing fast image viewer with convenient image organizer and comprehensive still and video editor, STOIK Imagic has everything to keep, share and perfect your memories. STOIK Imagic graphic software combines classic features with modern technologies, enabling lightning-fast browsing, viewing and searching.
Offering a combination of a photo album, media organizer, picture image viewer and easy to use pic and photo editor, STOIK Imagic graphic software makes your images easy to perfect and enjoy.
Stoik Imagic - advanced media browser, Photo, video, pics editing software.View, organise and customize photos, edit still pics and videos withease.
Stoik Imagic is a best solution for video editing (animation video, video conversion, movie making, video special effects etc.) and graphic editing (conversion to grayscale, slideshow creation, red eye removal, hue/saturarion, brightness/contrast, resize photos etc.)
STOIK Imagic graphic program comes with everything you need to perfect, review and share your memories.


Software Information
System Requirements
Version:
5.07

Windows 7/XP/Vista
310 MB free hard disk space
512 MB RAM
16-bit or higher color display at 1024 x 768

File Size:
80.90 MB
License:
Free to try, $49.00 to buy
Screenshot:
View Screenshot
Rating :
Key Features of STOIK Imagic Premium:
Digital darkroom.
RAW viewer.
Edit pics, photos, images - all-in-one included graphic editor.
Best image viewer (RAW, JPG, JPEG viewer etc.)
Digital picture retouching. Professional portrait, skin retouching. Retouche photos.
Fix a bunch of snapshots automatically.
View, customize photos, manage and share pictures and videos in a snap!
Digital Darkroom Software:
Stoik Imagic digital darkroom software is created for photo and pics enhancement and correction. Our digital darkroom contains tools for amateur and professional photographers.
Stoik Imagic darkroom creates a user-friendly studio interface and set of tools for photographers: RAW and all main formats support, pictures and images organizing and customizing, borders, enhance photos, sharpness, brightness and contrast adjustments, slide-show creation.
RAW Viewer: all you need for RAW Development:
Stoik Imagic RAW viewer is created for RAW image formats support, that used by digital cameras. The program contains also a thumbnail browser and picture preview. With our nice RAW viewer you can view, organize, and print your RAW photos.
STOIK Imagic graphic editor comes with a fully featured RAW development engine, providing a comprehensive digital darkroom to enthusiast photographers. The RAW workflow is completely non-destructive, allowing you to take back any step or changing any setting at any time without affecting the original RAW file.
Image Viewer:
Stoik Imagic photo editor has an excellent image viewer, that is designed for RAW, TIFF, PNG, JPG, JPEG photos and pictures viewing. It supports all main photo formats, including animation.
Our Image Viewer is a powerful and easy to use graphic tool. For example, you can browse images by folder or by name, find pictures on your PC, view photos. Stoik image viewer has also photo compression functions, palette options (red eye remover, color reduction, grayscale conversion) and also common image viewer features such photo resizing and rotating, slideshow photo viewer.
Digital picture retouching. Professional portrait, skin retouching. Retouch photos:
Color, brigthness and contrast enhancement and improvement
Scratches, dust and wrinkles removing
Replacing damaged parts of photo
Background replacement
Remove red eyes
Change the color of an object
Smudge, grow, shrink, twirl, lighten and darken photos and pictures
Managing, Organizing and Customizing Photos and Video Collection:
The folder tree is the easiest of them all. Click any folder to browse pictures and videos with customizable thumbnail previews.
In Calendar mode, you browse your collection by the date. Select a year, month, or day of week and view all pictures shot on that date.
Tags are super handy when shooting special events.
Advanced search. Can't find an image or video with other methods? The Search is always there! Just enter a file name or type, any tags or ratings you may have assigned, or some part of EXIF information for still images, and STOIK Imagic graphic editor will return matching files in a moment.
Advanced Features: Stereo, HDR, MPO, and Geotagging:
RAW Developer for most camera models. Raw Development.
Non-Destructive Dark Room allows taking back any step made while converting RAW files. RAW Converter.
Geotagging support for Google Maps and Google Earth.
DVD export in MPEG-2 format.
Anti-shake filter to sharpen up blurry photos.
Video export profiles to produce videos for many popular devices in optimal quality.
RELATED SOFTWARE DOWNLOADS FOR STOIK IMAGIC PREMIUM