Speed Mind Maths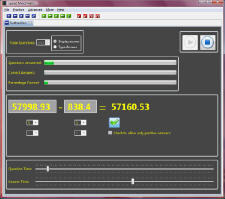 Speed Mind maths is a software that will help to develop your basic mathematics skills. It has a unique interface which will let you practice calculations in your head. The system is based on the ancient Vedic maths principles. Learning Vedic Maths will surely increase your calculation speed, but to increase your speed to astromomical levels (more than 2000% increase) requires constant practice over a period of time using the principles of Vedic Maths. The software comes with a free ebook(in the form of help file) based on the principles of Vedic Maths. Speed Mind Maths has been developed keeping in mind the requirements of all those preparing for various management or competitive exams and would like to increase their basic mathematical skills. All of this at the cost of a shoestring.
With it's state of the art Random Number Generator, it will allow calculations even in fractions. You can customize the font colors and background colors for the application.




Software Information
System Requirements
Version:
2.20

Windows Vista, 2000, XP, NT, ME, 2003
Hardware: Pentium II class processor
Approx. 26MB of free disk space

File Size:
13.00 MB
License:
Free to try, $14.95 to buy
Screenshot:
View Screenshot
Rating :
Features:
Free Vedic Math Ebook: On downloading this software, a free ebook(in the form of help file) will be available to you that will get you started on Vedic Maths. The ebook will teach you the best techniques to do mental calculations in your head and will also give you the best techniques which are not part of Vedic Maths.
Dynamically generated Questions: You decide how many number of questions you want to generate and also the number of decimal places it should have.
Set Timers Dynamically: Decide your own Question display time and amount of time you need to answer to be displayed(Answer Display Time).
Manual Typing Answers: Do not want the software to generate questions and answers at fixed intervals of time? Speed Mind Maths gives you the option to manually type your own answers and the software will verify it. Average time taken to answer per question is also calculated.
Tracking of Questions and Correct Answers: The software will track the number of questions thay you have answered, the number of correct answers and the percentage correct answers that you have given.
Support for fractional questions: You can set the number of fraction digits that are to be generated in the questions.
Two Layouts for Question Display: You can choose upside down or side by side displays for Questions.
All Arithmetic Operators Supported: You can practice addition, subtraction, multiplication, division, percentages, squares, cubes, square roots, cube roots, doubling, halving and much much more.
Special Features: Each arithmetic operator will have it's own feature. For example, while practicing subtraction, you can tell the software to generate question in such a way that the answer is always positive. For squares and cubes, you can set a range of numbers that you would like to practice on. This is very useful if say you want to learn all the squares from 1 to 30. Percentage calculations can be set to values less than 100% and even Integral percentages. These plus many more.
Guaranteed: Practice on this software for only a few hours and you will see a remarkable improvement in your calculating skills.
RELATED SOFTWARE DOWNLOADS FOR SPEED MIND MATHS