SMS Anywhere Standard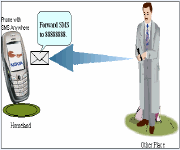 SMS Anywhere can forward incoming and outgoing SMS between mobile phones.
If you have two or more mobile phone numbers and you hope to handle SMS for all numbers with only one phone - SMS Anywhere gives you the answer.
When you travel to another country, you perhaps would like to have a local mobile number in that country. However you don't want to miss the messages sent to your original homeland mobile number. - SMS Anywhere is a good solution in this case.
If you are a detective or a policeman, you can use SMS Anywhere to monitor the incoming and outgoing messages on the suspect's mobile phone. Please be aware such behavior might be illegal in your country. We suggest you to check local laws before using SMS Anywhere for such case.
SMS Anywhere is a service daemon runs on Symbian S60 mobile phone. It starts up automatically when the phone is switched on. It does not have any GUI (Graphics User Interface) or application icon so you can't see it on phone menu. You may ask "How I can control it?" The answer is SMS again. You control the software by sending commands via SMS to it. No doubt, you can control the software remotely from other phones.
Let us take the following example. You will travel to another country. So you put your original mobile phone at home and have SMS Anywhere software installed on the phone. When you arrive to destination place and then you get a local mobile number 88888888, you send a short message to your original phone in a pre-defined format with a password (we will mention the format and password in detail latter) to require SMS Anywhere to forward SMS to your new temporary local number 88888888.
From now on, all SMS send to your original cellular phone will be forwarded by SMS Anywhere to your temporary number 88888888 automatically. Of course you can change your temporary number at anytime.




Software Information
System Requirements
Version:
1.41

Symbian OS, S60 2nd edition
Compatible Device:Nokia E50, E51, E60, E61, E62, E65, E70, N71, N73, N75, N76, N77, N80, N81, N82, N91, N92, N93, N95, 3250, 5500, 5700, 6110, 6120, 6121, 6290

File Size:
41.9 KB
License:
Free to try, $30.77 to buy
Screenshot:
View Screenshot
Rating :
Important Features for SMS Anywhere:
Forward and log all incoming and outgoing text messages.
Forward and log incoming and outgoing text message which is from/to a specific number.
Set a "black" number which will NOT be monitored.
Recording incoming and outgoing SMS which is from/to a specific number to a text file on the phone.
Upload SMS log file to a pre-defined FTP server via GPRS/WCDMA.
No GUI or application icon on phone menu.
No sending indicator (the up arrow icon) displayed on screen when forwarding.
Message is not displayed in outbox in any case.
Does not appear in Application Manager or a customized name is displayed.
Controlled remotely at any time.
Support all SMS encoding. (UCS2/GSM7Bits/8Bits)
Starts up automatically upon phone boot.
Forwarded messages are not displayed in sentbox.
Delivery report of forwarded messages is removed.
Information about original message sender/receiver is included in forwarded message.
Record of forwarded messages is removed from phone database.
The original incoming and outgoing messages are deleted automatically after they got forwarded. The feature is configurable.
RELATED SOFTWARE DOWNLOADS FOR SMS ANYWHERE STANDARD