SecuBox for Pocket PC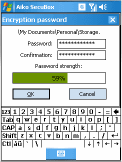 On-the-fly encryption software for Windows Mobile PDAs, Pocket PC. Protects confidential data with strong AES 256-bit encryption. Prevents information leaks and ensures no data will get into wrong hands.
SecuBox for Pocket PC is the Windows Mobile encryption software provides on-the-fly encryption of sensitive data stored on Windows Mobile PDA and its removable cards. Creates an encrypted volume that looks and feels like a PDA memory card. Data written to this card is transparently encrypted with AES 256-bit algorithm. SecuBox prevents data theft even if the device is lost or stolen.
With its seamless integration into day-to-day routines, SecuBox becomes an optimal choice for busy professionals who need efficient solution to their mobile security needs. Encryption key backup, file wiping compliant with the U.S. DoD 5220.22-M specifications, command line support and many other features will satisfy corporate environments and more demanding users.




Software Information
System Requirements
Version:
1.4.2

Windows Mobile 5, 6, 2002/2003/2003SE/2005
Windows Mobile 2002/2003/2003SE/2005
Windows CE 3.0/4.0/4.1/4.2/5.0/5.2
Handheld PC 2000 (Windows CE 3.0)
Pocket PC 2000/2002/2003/Phone Edition
Processor Type: ARM, MIPS, SH3, SH4 compatible

File Size:
863 KB
License:
Free to try, $39.95 to buy
Screenshot:
View Screenshot
Rating :
Benefits:
Strong 256-bit AES encryption
Easy installation, maintenance and usage
Secure data - both on Pocket PC and removable cards
Fast and efficient support
User friendly licensing policy
Features:
Advanced security algorithms - AES 256-bit encryption algorithm is used for data encryption, SHA 512 - for secret key generation. No knowledge of encryption and cryptography required - designed for security conscious people that value their time.
Encryption key backup - The backup copy allows restoring the encrypted storage in the cases of password loss or if the storage file has been accidentally corrupted during the operating system failure.
Encrypts all types of removable media cards - SecuBox protects data stored on removable SD and Compact Flash memory cards. See list of supported memory cards.
Easy installation, maintenance and usage. The program requires minimal administration and user training. It seamlessly integrates into your daily life requiring no change in the way you work with Windows Pocket PC or Pocket PC Phone.
Auto-unmount on device sleep protects your data even if you forget to timely unmount the encrypted storage.
File Wiping: Simple deletion is not secure enough because anybody can recover your sensitive files. When a file is deleted in an application or file manager, only the file name in the directory is marked as deleted. The data still reside there until overwritten by new data. SecuBox provides a file erasing facility that irretrievably wipes data. The wiping methods used by SecuBox conform to US Department of Defense "DoD5220.22-M" data sanitizing specifications.
Convenience and flexibility - you may configure different settings to make the integration of data encryption into your everyday life as seamless and easy as possible. Run the SecuBox software automatically on system start up or after soft reset, create and store a storage in any location etc. The program can be configured to run in "driver" mode only - to minimize the consumption of memory and CPU usage.
On-the-fly transparent encryption - The software features on-the-fly encryption. It creates encrypted virtual storages. When you open a file from a secure storage the data is decrypted on-the-fly, when you save it back on the encrypted storage, the data is automatically encrypted. The encrypted storage looks and works like another Windows Mobile storage card.
Password strength meter - a good password is one that cannot be guessed. Our advanced algorithms for judging the password's quality will help you create a strong password to ensure that no one will be able to brute-force it and access the confidential data on your Pocket PC.
Command line support - automate your daily data protection routines by creating quick links to SecuBox encrypted volumes.
Auto-explore on mount makes your day-to-day data protection routines even more convenient
Storage wiping - secure storage deletion - ensures that deleted data will never be recovered by special recovery tools.
Change storage properties - you may set up the read only and hidden properties for the encrypted volume.
Multiple encrypted storages - up to 10 encrypted Windows Mobile volumes may be mounted at the same time.
System tray menu - allows to quickly mount/unmount the encrypted storages directrly from system tray.
Close integration with Windows Mobile File Explorer - allows you to access your encrypted data with a single tap on the storage file directly from Windows Mobile File Explorer.
No back doors - SecuBox Pocket PC encryption software does not include backdoors or escrow keys. Neither we nor any other entities will be able to get access to the encrypted data - regardless of circumstances. Hence, DO NOT forget your password.
RELATED SOFTWARE DOWNLOADS FOR SECUBOX FOR POCKET PC