QuickScore Elite Level II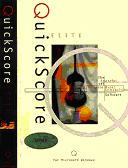 QuickScore Elite is a Premiere-level Music Composition and Notation Software for music composition, incorporating notation, arranging, MIDI and audio sequencing and recording. Create publication-quality scores, musical content for the desktop and world wide web, audio CDs, MP3s and soundtracks for film, video and games.
With QuickScore Elite Level II, you can quickly and easily produce 6, 5 and 4-string tablature notation with adjustable string tuning for guitar, bass, banjo, ukulele, mandolin, bouzouki, pipa, and other fretted instruments. Adjust the tuning and the fret numbers are adjusted automatically! Move and edit fret numbers with the same tools you use to edit any other notes or objects.
You can tell that QuickScore was designed with composers in mind by the little things. Like letting you proof your tracks for notes out of the range of the instruments for which you're writing. And automatic playback of repeats and first and second endings. Things like generating chords and guitar grids automatically from the notes you've already got in your tracks. When you've finished putting in the notes for your song, choose Generate Chords and it's all done for you. And of course you have control of the the playback of your chords and guitar grids. Or generate a complete accompaniment with appropriate instruments in any style ranging from Blues to Reggae to a Classical Guitar Quartet. All done in a few mouse clicks.
Software Information
System Requirements
Version:
12.0.7

Windows 8/7/XP/Vista
512 MB of RAM
16 MB hard disk space

File Size:
138 MB
License:
Free to try, $179.95 to buy
Screenshot:
View Screenshot
Rating :
Key Features of QuickScore Elite Level II:
Editing:
Up to 48 tracks * Editing windows include Score, Piano Roll, Controller, Event List, Song, Track Sheet, Mixer and Comments * Comprehensive set of standard editing commands in all editors including Cut, Copy, Paste, and Undo * Complete control over all MIDI events * Rich set of notation editing commands including transpose chromatically or in the key, adjust enharmonic note spellings, assign notes to different voices or staves, automatically set the duration of notes to fit musical passages and many more * Global graphic arranging options to cut and paste sections of songs * Intelligent edit filters * Loop editing.
Recording and Synchronization:
Real-time and step-time recording or record while tapping tempo from MIDI keyboard * Digital audio recording * Real-time 16 channel MIDI mixer controls which respond to all MIDI controllers, including volume and velocity * Punch In/Out * SMPTE/MTC and Midi Clock synchronization * Optional automatic quantization of real-time recording * Input and controller filters for real-time recording.
Playback:
Playback through MIDI and all popular sound cards * Scrolling playback with synchronized window display * Repeats and first and second endings automatically play * Interactively edit in full-score, single-track, piano-roll, song-overview, event-list or graphic controller formats as the music plays * Play standard WAVE digital audio files * Track Sheet to mute or solo tracks and change sounds.
Notation:
Up to 96 staves * Independently adjust the characteristics of song title, track name, headers, footers, copyright information, 4 sets of lyrics, 6 sets of text, bar and page numbers * Consolidated rests * Engraver Spacing * Full user control over drum notation display * Full set of display quantization options * User adjustable staff spacing, brace style, engraver spacing, adjustable staff indents, and templates for often used configurations * Selection of number of bars per line, time signatures and key signatures on a bar by bar basis * Change clefs at any position * Cross-stave beaming and free note grouping * Adjust position of notes and bar lines, without altering MIDI data * 6-string guitar tablature notation * Automatic chord and guitar grid generation * Full-page preview mode with zoom * High quality WYSIWYG TrueType music font included * High-quality printout on all Windows supported printers.
Musical Symbols:
Complete set of symbols including groupings, fingerings, articulations, slurs, repeats, crescendos, decrescendos, dynamics, line and box drawing * All standard clefs including 5-line and single-line percussion clefs * Grace notes and cue notes with automatic beaming * Configurable chord names, guitar chord grids and figured bass.
Importing and Exporting:
Import and export standard MIDI files * Import and export MusicXML files * Import NIFF files * Export MP3 and Wave files * Export Copyist files * Export Tiff, BMP, EMF and EPS files.
Multimedia:
Record and play back multiple tracks of digital audio * synchronize with digitized movie clips for film scoring * create audio CDs, MP3, Wave files and music soundtracks and incorporate them into digital films, videos and games.
Audio Mixer
We've added a new Audio Mixer, complete with 32-bit floating point buffers, adjustable audio paths for each audio input pair, VSTi instrument, audio track, ReWire input pair and master output. Adjust gain and pan settings and add up to 4 insert effects and 4 send effects on each audio path. All audio paths may be up to 8 channels wide and accept plugins with up to 8 inputs and outputs. And every channels on each audio path can be assigned to the output channel you want.
Record multiple audio tracks simultaneously
In the Audio Editor, it is now possible to record several tracks of audio at once. Plug in as many inputs as your sound card allows, and record all the members of your band or orchestra together, instead of one at a time.
ReWire
ReWire devices and instruments are supported, letting you mix audio from programs like Propellerhead's Reason or Ableton Live and use any instruments available in those programs in QuickScore.
Audio automation
Control track faders and pan pots in QuickScore's audio mixer from the controls of any physical mixer connected to your computer by MIDI. Record fader movements and have them play back as you recorded them.
Up to 96 simultaneous audio input and output channels
Recording and playback of up to 96 simultaneous audio input and output channels is supported.
Professional sampling rates and sample sizes
Audio sampling rates of up to 19.2 MHz and sample sizes of 24 bits are supported.
Export audio from the audio mixer
Exporting audio from the audio mixer is possible. Export stereo MP3 or Wave files with up to 8 channels at selectable sampling rates and bit depths.
Plugins with multiple audio inputs and outputs
Audio plugins with up to 8 audio input and output channels are supported.
Flexible plugins directory
Use of the system VST plugins directory for audio plugins is now possible, making it easier to share and keep track of your VST plugins. This can be selected in the Audio Setup dialog under the Options menu.
RELATED SOFTWARE DOWNLOADS FOR QUICKSCORE ELITE LEVEL II