PhoneSheriff (6-Month License)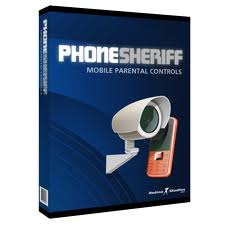 PhoneSheriff is the perfect tool to help you monitor, restrict and filter your child's activities on their phones. If you are worried that your children are using their phones inappropriately, then PhoneSheriff is just for you. This powerful software gives you the ability to block, filter and monitor the activities outlined below. It can block phone numbers from communicating; Parental control software for mobile phones; Monitor SMS, calls, GPS locations and photos; Create time restrictions for your child and easily check logs online from anywhere.
PhoneSheriff allows you to monitor actions and filter out those you don't want. You can even create a schedule for allowed usage. And when you install the password-protected software, it silently blocks the activities you specify while uploading logs of every action your child performs. Logs are viewable from anywhere inside your secured online control panel. PhoneSheriff will give you peace of mind about your child's safety and security in this high-tech world.
Software Information
System Requirements
Version:
2.0

Any compatible BlackBerry, iPhone, Android, Windows Mobile or Symbian OS based smartphone including many models by Apple, Samsung, Nokia, Motorola, HTC and more
Compatible Phone Carriers: Verizon, T-Mobile, AT&T, Sprint, O2, Orange, Verizon, Cingular, Alltel, Vodafone, Telcel, Rogers and more.

File Size:
4.80 MB
License:
Free to try, $49.00 to buy
Screenshot:
View Screenshot
Rating :
The Main Features of PhoneSheriff :
Filtering Features
PhoneSheriff gives you the ability to filter out and restrict the activites performed on your smartphone. From locking the phone during set times to blocking certain phone numbers and websites.
Website Filtering - You can filter inappropriate websites according to our inbuilt website categories to open in the mobile phone;
Application Filtering - You can filter inappropriate applications to open in the mobile phone;
Custom Filtering - You can block certain websites to be viewed and contacts to communicate by customizing a blacklist/whitelist of such websites and phone numbers in the mobile phone.
Logging Features
PhoneSheriff also gives you the ability to monitor activities online in real time. Your logs are safely stored in your secure Internet account which is accessible only by you. You can check logs using any web browser. You can login anytime from any location to view results without needing access to the phone.
Call Details - Information about every incoming and outgoing telephone call is logged including each call's duration and time stamp;
SMS Messages - The full text of every SMS text message sent or received is logged. It doesn't matter if the phone's history is deleted. You'll still see everything;
Email Messages - All inbound and outbound email messages from the phone's primary email account will be recorded in their entirety;
GPS Locations - GPS locations are captured however often you choose in the application. See the actual GPS coordinates with a map of the position;
Photos and Videos - When your child or employee takes a photo or video with the phone, it will be silently uploaded to your account for your viewing;
Contacts Added - A list of every new contact added on the phone is logged including the name, phone number, email address and company entered.
Websites Visited - A list of all websites visited in the phone's mobile browser will be recorded. You'll see every move they make on the web;
Alerts Features
PhoneSheriff will alert you on events of any misconduct happened through your phone. Alerts are special features where if anyone tries to indulge in the activities of profanity and tampering, you will get to know about it. From Geo Fencing Alert where you can almost safeguard a children's location by creating a virtual security circle around them to the custom alert where you can choose from a list of activities to be alerted upon.
Custom Alert - You can create a customized list of profanity or rude words from the device itself to get alert logs whenever those words are used or received in the phone.
Profanity Alert - At any time if curse words, explicit or abusive content are exchanged through your child's phone, then you will get a Profanity Alert.
Geo Fencing Alert - Get an alert sent to you whenever the monitored phone moves beyond an area that you choose.
Intrusion Alert - Know if someone is trying to open the blocked website or doing anything restricted. You will get to know about any changes attempted.
Other Features
In addition to restricting and logging phone activities, PhoneSheriff can also send you notifications about unwanted activitiy. Also, PhoneSheriff can institute security measures if the SIM card is changed, like notifying you or locking down the phone.
Create Time Restrictions - Lock the phone during certain time periods of the day during which you think the children are abusing their cell phone privileges. You can choose to lock the entire phone or particular functions.
Multiple Device Management - View activities inside the interface of the phone, OR login to your secure online account to view results.
Remote Locking and Real-Time Tracking - Get instant GPS location. Lock or unlock the device remotely. Also play a siren sound and wipe data of the phone remotely.
Remote Uninstall - Uninstall PhoneSheriff™ from a remote location by using the online control panel.
Backup, Restore Data and Factory Reset - Create a backup of the smartphone data to keep with you if in case the phone gets lost or stolen. Restore factory settings on the phone from the control panel.
RELATED SOFTWARE DOWNLOADS FOR PhoneSheriff