Personal Finances Home - Personal license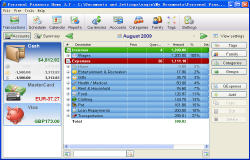 Personal Finances is an elegant, super easy personal finance and home accounting software for home users.
With a glance at its summary view, reports and graphs, the user will gain deep insight into the financial health of the family budget, pinpoint areas of excessive expenditure and trim the budget. Featuring the scheduler, the program also enables you to track expected income, spending and see how much money you'll have at a future date.
The program is portable and can be installed and run from the USB flash drive (U3 Smart drive* edition is also available). Personal Finances meets all of your needs, whether you need to make a more realistic budget, want to get out of debt, or teach your children the basics of budgeting.
Software Information
System Requirements
Version:
3.7

Windows 8/7/XP/Vista
15Mb of free disk space
512 MB of RAM

File Size:
8.60 MB
License:
Free to try, $24.95 to buy
Screenshot:
View Screenshot
Rating :
Key Features and Benefits of Personal Finances:
Set up unlimited number of accounts
You can set up unlimited number of different accounts, including credit card, debit card, checking account, savings account and cash. For each account, you specify its name, currency, initial balance, and personalize the account with a nice-looking icon. What's more, you can set a spending limit for each expense account by allocating the maximum amount of money you can afford to spend over a particular period of time.
Enter current or scheduled transactions
You can enter current purchases and earnings, as well as scheduled transactions for recurring expense and income. Simply enter the name, total amount, spending category and assign the date. This date appears on the personal finance calendar and in the list of transactions that are due.
The scheduler allows the user to create recurring transactions automatically. Such transactions will be entered by the program automatically at a preset time, without any user interference.
Enter frequent transaction with a click
You can enter frequent transaction very quickly using the QExpense option. Just select from the list of frequent transactions, such as car, cat food, cell phone, internet and Personal Finances will open the wizard where all fields will be filled out with data, such as account, amount, and category. You simply click OK to enter this transaction into the account and that's it! No need to type the same information by hand over and over again.
Define transactions with categories and tags
You can define transactions with categories, sub-categories, family members and tags. This will help you to see in great details where your money goes when you generate budget reports. By adding tags to transactions, you can differentiate between similar transactions that fall into the same category. Organizing transactions by family members will help you track the budget by person, see who overspends and adjust the budget.
Review financial situation with reports
Pie and bar chart reports with percentages and totals will show income and spending across all budget categories, spending by family members and tags over a selected period. It will help you understand where your money goes for any period of time and see whether you live within the money you make. With a click on any item in the report, you can drill down deeper to associated transactions. Reports can be printed, or exported to HTML, CHM, and TXT.
Calendar
Calendar is very useful tool to view transactions grouped by days and accounts totals on each day in past and future including scheduled transactions.
Install the app onto the USB flash drive
You can install Personal Finances on the USB flash drive, which is convenient for users on the go. Once installed on the USB drive, the program lets you keep track of the purchases and earnings at all times and across different computers. For example, you can take the program with you on a trip or a long journey.
Protect financial data with a password
Personal Finances lets you protect your financial information by setting a password on the database. Once the database is password-protected, no one can view the details of your financial life.
RELATED SOFTWARE DOWNLOADS FOR PERSONAL FINANCES HOME