MarketSMS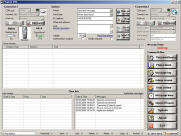 Retrieve information's by SMS from anywhere in the world with mobile phone!
Fast and correct information is worth of gold when we need it so bad. That is something we all expect in these 21st century days. Following that kind of thoughts, Market SMS is builded! Returning the information's from a database, depending on user inputs, using all types of connections (sms/mail/GSM modem/Fax/SMSC/Wap). using SMS messages features from mobile phones. Great for big companies, or small markets to provide prices, product detailes, orders detailes and much more! No metter where you are, informations you need are at your glance! Just send SMS to mobile phone that is connected to PC with Market SMS installed and configured, and be ready to receive SMS with desired information!




Software Information
System Requirements
Version:
2.1.3113.41089

Windows 2000, XP, Vista, .NET 2.0 Windows
Hardware: Pentium II class processor
Microsoft .NET Framework v2.0 or later
GSM modem, Email server, Fax or mobile phone with PC connection

File Size:
3.57 MB
License:
Free to try, $160.00 to buy
Screenshot:
View Screenshot
Rating :
Key Features of MarketSMS:
Supported phones:
Nokia 1100, 2100, 3100, 3105, 3108, 3200, 3210, 3510i, 3300, 3310, 3330, 3350, 3390, 3410, 3510, 3560, 3570, 3585, 3585i, 3586, 3590, 3595, 3610, 5100, 5110, 5130, 5190, 5210, 5510, 6100, 6108, 6110, 6150, 6190, 6200, 6210, 6220, 6250, 6310, 6310i, 6340, 6340i, 6510, 6560, 6590, 6610, 6650, 6800, 7110, 7190, 7210, 7250, 7250i, 8210, 8250, 8290, 8310, 8390, 8810, 8850, 8855, 8890, 8910, 8910i, and ANY AT COMMAND SUPPORTED!!!
Suported GSM modems:
Siemens MC35i, TC35i
Nokia N30,N32
Wavecom Fastrack M1206B,M1306B
Falcom Twist
Audiotel Celline,Industrial,Modex ...

Connection types:
Cable, InfraRed, Bluetooth, SMSC, E-mail, Fax, AT commands modems (prefered GSM)
Monitoring:
- To help you catch all activities there are three monitor windows
- SMS status window shows status of SMS-es
- Status bar lets you see some "live" stats

SMS Options:
- Sending simple/flash SMS messages
- Different SMS sending types
- SMS validity
- Authorization request
- Running as server (process received messages)
- SMS parking (large amount of messages processing, "SMS-lost" protection!)
Receiving/Sending:
Build your own database for receiving and sending SMS-es.
- Searching through database for receive and send text separately
- Character information with SMS counter
- Send text can be formatted to not cut the words between two messages. Also correction can solve problems for different providers maximum characters!
Phone numbers:
Build your own phone book.
- Group people for easier authorization and send2many activation.
- Multi selection can select large numbers of people at once
- Searching is enabled by phone number and name

SMS log:
Shows all SMS activities for different types, in particular period, for certain phone number or SMS text
Importing/Exporting/Deleting:
- Import or export data in three formats: Text, XML
- Delete exported file
- Back-up whole database and restore it to the latest back-up point!
Database connection wizard:
If you already have your own database, there is a possibility to use it in MarketSMS for receiving/sending SMS. Just open Database connection wizard, and connect to it!
Database import wizard:
If you already have your own database, just open Database import wizard, and import data from your database to default MarketSMS database!
AT command support:
Now any (prefered GSM) modem from your mobile phone can be connected with MarketSMS! That extends the list of supported phones!!!
Fax:
An option to send data directly to fax is added! You can use any fax modem to use this feature.
Email:
If you already have your email account (pop3/SMTP), there is a possibility to use it in MarketSMS for receiving/sending mails. Or you can forward your incoming mails to your phone!
Starting the Program:
Download and install Microsoft Framework 2.0 from Microsoft web site.
Install Market SMS.
Connect mobile phone (AT command supported or almost any Nokia) to PC
Run Market SMS
Check if your phone got 1(one) free SMS!
Click 'Phone numbers' and add your phone number, Enable it and close the 'Phone numbers' form.
Click 'Receiver/Sender' and add some data. Be aware that the text you type in Send field will be sent trough SMS when your phone receive a SMS message you typed in the receive box!!!
Close the 'Receiver/Sender' form.
Now your phone is ready to act like a SMS Receiver!
Take another mobile phone to take some testing.
Send SMS message containing the text you typed in the receive box to your phone connected to PC, and in a second or two you should receive a SMS message containing a text you typed in the Send box.
Was it a success?
Now you have a SMS network!!!




RELATED SOFTWARE DOWNLOADS FOR MARKETSMS