Integard Home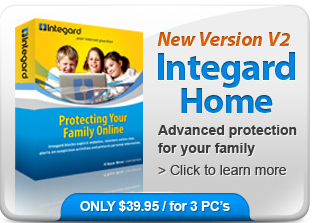 Integard Home is an internet content filter that will protect your children from inappropriate internet content, limit their time online, and much more.
Comprehensive features and reporting lets you control and supervise your children's use of the internet. It supports multiple users with different levels of filtering, links to Windows accounts, supports custom allowed and blocked lists, screenshots, protects your personal information. Integard can give you a one page snapshot of what your kids have been up to on the internet. Integard knows about Google, YouTube, MySpace, Facebook and many other Web sites and can give you a report of what they do online.
Once installed Integard Home can Block, Filter and Log internet activity on your PC giving you the power to prevent your children from being exposed to explicit images and other adult content when online.
In addition its powerful reporting and alert capability can keep you informed about the internet activity of your children. The Integard Administration interface lets you customise the level of access and filtering for all users of the computer. Start protecting your children today..
Software Information
System Requirements
Version:
2.0.0.9047

Windows 7, Vista, XP or 2000
512 MB RAM
100 MB Hard Drive Space

File Size:
4.75 MB
License:
Free to try, $39.95 USD to buy
Screenshot:
View Screenshot
Rating :
Key Features of Integard Home:
Website Filtering.
Integard can block web pages that are not suitable for children. Integard comes with a comprehensive database of websites and keywords that is continuously updated. When a page is blocked an email alert can be generated to let you know.
Blocking by Category.
Integard allows you to specify which categories of websites are allowed and blocked for each user. This would allow you to give a teenager more access than a younger child.
Dynamic Analysis.
With websites always changing on the internet, it is important that a filter is able to keep up. Integard handles this my scanning every web page before it is displayed and making sure it is ok first.
User defined allowed and blocked lists.
With Integard you can set up your own lists of websites that are allowed and blocked. You can even restrict browsing to just the allowed sites you have entered.
Time and Data Limits.
You get the ultimate in flexibility with Integard in setting how much time and how much data can be used online.
Chat Monitoring
Children love to chat online and make new friends. But they don't always know who they are speaking with and can be too quick to trust new contacts. With Integard chat monitoring you check what was said.
Alerts and Warnings.
Integard can detect suspicious keywords and phrases in chat conversations and block the messages or send you an alert email to let you know.
Chat Programs Supported.
Integard works with most chat programs. These include MSN, Yahoo, ICQ, Facebook, MySpace, mIrc and more.
Activity Reports
Activity Reports provide an account of a users activity on the internet including Web Searches, Social Networking activity on Facebook, Myspace and Twitter. The activity report includes a list of the most popular websites visited. The activity report can be automatically emailed to you daily.
Social networking.
Social networking sites are the latest craze with kids and adults. It can be a lot of fun, even addictive. But they can also lead to bad experiences if friends turn nasty.
Integard can monitor use of the most popular social networking sites and record profiles names, messages posted, chat and status changes.
Protection.
Social networking sites are the playground of the internet where cyber bullying can take place. Integard reports may reveal that your child is being bullied without your knowledge and allow you to take steps to protect your child.
Multiple Users.
Integard lets you give each user of the PC a different level of access to the internet. This extends to different levels of blocking, time limits, data limits and many other settings.
Remote Administration.
Integard allows you to remotely change settings and run reports over the network from another PC, including screenshots. Because the Integard admin is web based you get the exact same interface as you do when you use it on the same PC.
Remote access at home.
If you have more than one PC at home and a network you can remotely access Integard running on one PC from another. All you need is a web browser, no software to install. But if you do install the Integard Admin browser it's as easy as clicking a button.
Remote access over the internet
Integard can also be remotely accessed over the internet. Some router configuration may be required for security reasons but once setup you have the control from anywhere in the world.
Stealth Mode
Integard can keep a low profile and make web page blocks look like network errors..
Other Features
Improved Data Usage Limits, Blocks Advertising, Automatic Shutdown, New Look Interface And much, much more.
RELATED SOFTWARE DOWNLOADS FOR Integard Home