InPreflight (Mac OS X)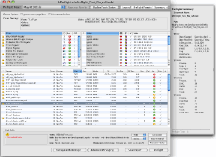 Preflight InDesign documents, automate packaging, print and save reports for Adobe InDesign
InPreflight is a comprehensive quality control and file packaging solution for Adobe InDesign. InPreflight saves you hours of checking your documents manually and dealing with consequences of costly mistakes:
Quickly checks document fonts, colors and links.
Reveals link attributes not reported by InDesign.
Presents you extensive info in a concise, easy to understand form.
Lets you instantly locate potential problems according to user-defined preflight presets.
Automates packaging of multiple documents so you don't need to collect the same links several times.
Print and save graphic preflight reports as PDF.




Software Information
System Requirements
Version:
2.60

Adobe InDesign CS/CS2/CS3/CS4
Mac OS X 10.4.2 (or later), Leopard compatible

File Size:
4.70 MB
License:
Free to try, $99.95 to buy
Screenshot:
View Screenshot
Rating :
PREFLIGHT
Quickly check document's fonts, colors and links. InPreflight is, on average, 2 - 10 times faster than FlightCheck.
Sort preflight results by any attribute.

Links
Get extensive info on links attributes such as kind, size, effective resolution, color, fonts and many others.
Reveal link attributes otherwise unavailable in InDesign, such as TIFF compression and embedded fonts.
Warn about "forbidden" names and locations. For example, warn about links which are not located in the folder "Hi-Res", or whose name contains "_random".
Open links in their default application, show in InDesign and reveal in Finder.

Colors
List color space (CMYK/RGB/Lab), model (Process/Spot), value and used status.
List unnamed colors.
Check documents for Registration color used in text.

Fonts
Check font type, status and PDF embedding permissions.
Update fonts status as you activate them in the system
PREFLIGHT PRESETS
Create preflight presets for various job types to check your documents for specific attributes. For example, create different presets for newspapers, magazines and spot color brochures, which will warn you different link resolution, color usage and other attrbiutes.
Reassess preflight results with different presets instantly without the need to re-preflight your document.
AUTOMATED PACKAGING
Automate packaging of multiple documents with the option to collect them all in one folder or separately.
InPreflight can collect all mutual files into one folder, so you don't need to collect the same links multiple times for each design. This can save you gigabytes of space and hours of production time when collecting InDesign files that share the same linked images.
You can also choose to collect each file separately - InPreflight will automatically create separate folder for each document and collect there all required elements.
Add extra files and folders not directly related to the document to package with the document automatically.
Collect links into the same folder as the original document - InDesign will always find the links automatically when you send the job to your service provider or move it to another volume.
Tell InPreflight to open the collected documents and folders automatically so you don't have to chase them in the Finder.
InPreflight can ask you to choose the destination folder for your collected jobs every time you package the documents or daily
RELATED SOFTWARE DOWNLOADS FOR INPREFLIGHT (MAC OS X)