Farm Helper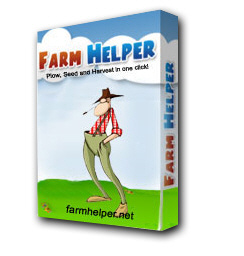 You are looking at the best Farmville bot on the internet!
About Farm Helper:
Farmville is the most popular flash game on facebook for its creative features and great in game design. Farms start off as small plots of land ready for you to sink your first plow tool into it. Users play and expand their farms to great sizes to the point when harvesting and plowing become quite a task. For this reason, Farm Helper was created.
What Farm Helper Does?
With a single click, Farm Helper can harvest, plow, or plant your crops. It even has the ability to harvest your animals and trees with no complicated coordinate input on your part. If that isn't enough there is a built in feature that allows you to trade your coins for experience, allowing you to level higher than your friends without doing any work. Get over 9000 exp an hour!
No more dirty work! Farm Helper does it all for you! No need for a Tractor, Seeder or Harvester and you dont need fuel any more! Download Farm Helper HERE! And see it for yourself.





Software Information
System Requirements
Version:
2.0.0

Windows 7/2000/XP/2003/Vista/2008
50MB disk space or above
512 MB RAM

File Size:
564 KB
License:
Free to try, $6.99 to buy
Screenshot:
View Screenshot
Rating :
Key Features of Farm Helper:
Plow all your land in one click!
Seed in one click!
You can play Facebook Farmville with ease!
Harvest all your fully grown crops in one click!
Collect from all your ready animals in one click!
Collect your trees in one click!
Exchange coins for experience points!
Earn 100.000XP in a day!
Unlimited Automatic updates!
and much more...
Before you start using our Farm Helper you need to do the following:
Capture your farmer between hay bales or fences. That way, your farmer will harvest/plow/seed without even moving. Best is to capture him at the middle of your farm where he is appearing when you load your farm, and he will always stay there.
The lands/plants that are partially visible , can be a problem, so you need to manually harvest/plow/seed those lands. Another way is to rearrange objects that are making the problem. If you don't do this, Farm Helper may accidently click and move those objects.
Make sure that the eye icon in the top left corner of the farm is clicked in order to set the flash quality to best.
RELATED SOFTWARE DOWNLOADS FOR Farm Helper