DisposableLinks Pro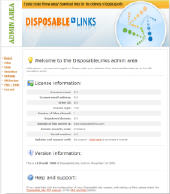 DisposableLinks PRO easily create expiring and secure download links for the delivery of digital goods. IP locked download links, country locked download links, and personalized downloads - the fully featured PHP solution.
With DisposableLinks, a PHP script package, you can easily create secure 'throw away' download links for the delivery of your digital goods. DisposableLinks links can be set to expire after a certain amount of clicks, or after a specific amount of time, and can also be locked to a specific IP, which means that even if someone shares a link before it has expired, it will not work for anybody else. Additionally you can disallow downloads from specific countries. And: you can even embed customer data dynamically into any downloaded file!
The DisposableLinks package is easy to set up and integrates into any website within a few moments only. No specific PHP, HTML, or database knowledge is required. You will be ready to protect your files with expiring and secure links in a few minutes only!

Download Now 2.08 MB
Software Information
System Requirements
Version:
1.0

Linux, Unix-Server
PHP v4.3.0 or higher
MySql database v4 or higher
512 MB RAM

File Size:
2.08 MB
License:
Free to try
Screenshot:
View Screenshot
Rating :
Key Features of DisposableLinks PRO:
Securely hides the real location of downloadable files
Creates download links that expire after 1 minute or even X minutes, days, weeks, months, years
Creates download links that expire after X clicks
Creates download links that can be locked to a specific IP address
Creates download links that can be set not to work when accessed from specific countries
Creates download links that do not expire but hide the real location of the source file on the server
Embeds customer data dynamically into files that are downloaded - 'SignFile' technolgy (provided the type of file does not break on binary changes)
Creates unique download links on your website dynamically
Creates 'upgrade proof' download links that do not get broken if you change the source file URL, the 'send as' file name or any other detail of the source file
Complete statistics on who downloaded which file from where and when
Complete statistics on which file has been downloaded how many times
Easy integration: two lines of PHP code and you're done
Easy and fast to set up: the included admin area makes it very easy and fast to manage the whole system
Easy and professional installation on your server with the included automated FTP transfer of the script package, automatic installation of PHP extensions (if required), database and configuration setup. In most of all cases you're ready to use DisposableLinks without having to upload or configure anything manually.
RELATED SOFTWARE DOWNLOADS FOR DISPOSABLELINKS PRO