CubeDesktop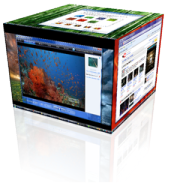 Say goodbye to cluttering! Get your desktop organized with the ultimate 3D virtual desktop manager for Windows XP, Vista and 7.

CubeDesktop is a first-class virtual desktop manager with stunning 2D and 3D graphical effects. It adds an elegant, beautiful and breathtaking new look and feel to your Windows experience. Beyond the visually stunning effects is an interface that operates quickly and smoothly transitions between desktops.

CubeDesktop comes with a bunch of customizable features that make it one of the most advanced virtual desktop managers.
Software Information
System Requirements
Version:
1.4.0

Windows 7, Vista, XP
DirectX 9.0c or higher
3D accelerated video adapter

File Size:
6.63 MB
License:
Free to try, $19.95 to buy
Screenshot:
View Screenshot
Rating :
CubeDesktop Key Features:
Virtual desktops
CubeDesktop creates six virtual and independent desktops, increasing the space you have to work and play.

Being the most robust multiple desktop software, CubeDesktop solves the desktop clutter problem once and for all. Each virtual desktop is a distinct working environment. The taskbar shows only the applications opened on the current desktop, greatly reducing the clutter.
Desktop customization
Every single desktop may have its own wallpapers, icons and name. Change your Windows wallpaper as usual and arrange your icons using your favourite layout on every single desktop, CubeDesktop just remembers everything when you switch between desktops.

CubeDesktop also includes an integrated icon manager, allowing you to quick and easily which icons are shown on every desktop.
Desktop privacy
You are able to tag desktops as totally private(you can磘 see its content untel you enter a password) or partially private (it can be seen but needs a password in order to be activated).
Automatically start applications on specific desktops
You are able to run selected applications on a desktop of your choice.
Key combinations
You'll be able to set up the hot keys that control the behavior of CubeDesktop.

CubeDesktop comes with a predefined combination of hot keys that you can change and adapt to your needs.
Switch between tasks faster than ever before
3D effects
Use the 3D cube to preview, switch or move windows to another desktop. Or just for fun.

Improve your Windows Vista experience. CubeDesktop is the best Vista addon so far, adding to your desktop incredible 2D and 3D effects.

Windows and desktops update in realtime, like Windows Vista new thumbnails, but in true 3D.

Impress everybody that looks at your computer and change the way you work with it!
Moving windows between desktops
CubeDesktop offers various ways to move applications amongst desktops.

Drag a window near the edge of the screen to show the 3D cube and drop it on the desktop of your choice.

"SendTo" menu items integrated into all applications' system menus allow you to send applications to the desired desktop.

You can also use hotkeys to move the selected window to another desktop.
Live preview
CubeDesktop is not like the classic utilities for Windows. Everything is live. When you switch between desktops using the 3D interface or the desktop explorer, you see a live preview of what's happening. All windows update in realtime, allowing you to see what you're really looking for.
Window organization
Open the full graphical desktop preview to see all desktops at the same time. Every window is just one click away. Move them between desktops in a hurry.

Autosend rules allow you to move windows to one desktop automatically when they open. When this happens, a notification bubble hint will inform you, no need to look for it!

Named desktops will make it easier to organize your windows. Imagine having one "internet" desktop, one "work" desktop, ...
Active corners
Just move the mouse pointer over the screen edges and watch how the action you configured gets executed.
Advanced visualization effects
Enable or disable real time visualization
One of the most exclusive features of CubeDesktop is the visualization of windows and desktops in real time.

Real time visualization can downgrade system performance, depending on the number of opened applications at the same time.
RELATED SOFTWARE DOWNLOADS FOR CubeDesktop