Boss Everyware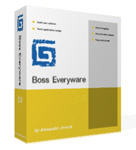 Boss Everyware is for monitoring computer and internet use that helps you to monitor what your employees or kids do on the computers.
Boss Everyware lets you know: what software they run; what web sites they visit; what do they type in email and IM; and more with the detail level of your choice.
Boss Everyware is lightweight, safe and reliable. It generates low traffic and does not affect the system performance; works at the user level, installs no system services nor drivers; since 1998, Boss Everyware has helped thousands of customers worldwide.




Software Information
System Requirements
Version:
2.9.2

Windows 98/NT4/2000/XP/2003/Vista
128 MB RAM
5 MB of hard disk space

File Size:
4.11 MB
License:
Free to try, $49.00 to buy
Screenshot:
View Screenshot
Rating :
Key Features of Boss Everyware:
Collected information: Boss Everyware writes collected information as records. A record is similar to a row in a table and corresponds to the currently focused window. Each record contains the following information:


Name of the monitored computer.
Name of the user currently logged in.
Application file name.
Open URL (by all versions of Microsoft Internet Explorer, Netscape/Mozilla/Firefox, Opera, AOL, MSN and all the other browsers that use Microsoft Internet Explorer engine).
Typed keys, including all European layouts.
Title of application's main window (usually contains document title).
Title of the currently focused window.
Date/time when the current window got focus.
How long the current window had focus.
User inactivity time, i.e. how long the user has not touched keyboard/mouse.
Monitoring start/stop events (user logon/logoff time).

Monitoring options: Boss Everyware performs monitoring completely at user level and consumes very little processor time. To ensure system safety and stability, it uses no custom drivers nor interactive services.


Collecting data
Writing collected data
Scheduling

Log analysis: Large log analysing capabilities distinct Boss Everyware from its competition:


Report-based approach. A report contains rules that define where to get and how to present the collected data.
Almost real-time analysis: even the current log files are accessible for reporting.
Analyzing data from multiple logs in a single report.
Grouping data.
Filtering data (by contained text, by date/time, by duration).
Sorting data.
Searching through the report.
Formatting data (show full URLs or domains only, show full path of application or just its file name).
Formatting appearance (fonts, colors, word-wrapping, column visibility).
Advanced keystrokes reporting:
Print preview, print settings.
Export to HTML, XLS, CSV or text files.
Deleting older records from the log.
Spreadsheet-like selection. Select/copy of a portion of a report cell, as well as an entire cell or a range of cells.

Deployment


Custom deployment packages easy and silently install a pre-configured logger on multiple computers. Just set up the required configuration, click on "Create deployment package" and you have a small setup.exe that does the job.
Remote loggers can be reconfigured via network-located configuration files.

Security options


Only administrators can change monitoring options.
Delimiter-separated log files can be written into write-only folders. This prevents users from reading or deleting logs.
With additional password protection none of the Boss Everyware components except monitoring will run without authorization.
Option to prevent monitoring from unauthorized termination.
RELATED SOFTWARE DOWNLOADS FOR BOSS EVERYWARE