APO Standard for USB flash drives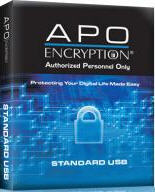 Nothing will protect you from the theft of personal or client data, better than proper encryption. APO provides proven encryption technology with a user-friendly interface that will allow you to protect the files on your computer, as well as communicate securely over the Internet with clients, colleagues, and friends. APO has a number of features that very few other encryption programs can match.
Typically, in order to protect computer files you would use firewalls, anti-virus software, and anti-spyware programs. Despite all of this effort, hackers are continually finding new ways to access people's computer data. If a new virus is created, it can take months before the creators of the anti-virus program make a downloadable upgrade available. In the interim, your computer data is vulnerable. If your data is encrypted, even if your computer is successfully hacked, the hacker is unable to read any of your files. If your computer or laptop is lost or stolen, the only thing that will protect your data is encryption. Password protected hard drives are not secure. If you want to communicate via the Internet, the only safe way to do so is by encrypting your data. Many accountants, as well as other professionals, currently use couriers because e-mail isn't secure. For these people, APO will pay for itself very quickly by saving the time and cost related to using a courier. Many Federal privacy acts now require you to take steps to protect your client data. In some instances, if you have lost client data the act will require you to undertake a nation wide ad campaign stating you have lost client data. The safe harbor to this onerous task is that if you can show you have encrypted the lost data and kept your encryption key secure you are off the hook. APO Encryption provides you with US Military grade encryption that is so easy to use that for most tasks you won't even know it is there. The APO system allows you to choose the level of security that is right for your environment. You can automate the entire process, or, if you require additional security, you can require the computer user to take one or more additional steps that are designed to enhance security.




Software Information
System Requirements
Version:
1.0

Windows 8/7/XP/Vista
128 MB RAM

File Size:
2.75 MB
License:
Free to try, $14.95 to buy
Screenshot:
View Screenshot
Rating :
APO Standard for USB flash Main Features:
FIPS certification:
APO's encryption module has been certified by a testing lab approved by the US, Canadian and British government. This certification is required before any of these governments can use the software. This certification is also required through legislation for certain others, including medical practitioners in the US.
AES 256-bit encryption:
This is the same type of encryption used by the US Military for keeping Top Secret documents safe.
File shredding:
APO uses the Department of Defense standard for the secure deletion of files.
Portability of files:
With APO you are able to encrypt your documents on one computer and decrypt them on another computer, or even on a Pocket PC.
Built-in Password Vault:
The Password Vault in APO allows you to keep all your Usernames, Passwords, Credit Card data, Identity card numbers and other data in a secure vault. • Free decrypt only software: APO provides a free decrypt only module that you can give to your clients. With this, you can e-mail encrypted documents to your clients and they are not required to undertake any additional expense to be able to decrypt the document on their computer.
Server software:
APO's server software will manage your encryption keys and fully automate the encryption and decryption process for everyone in the office.
RELATED SOFTWARE DOWNLOADS FOR APO STANDARD FOR USB FLASH