AddWeb Website Promoter Deluxe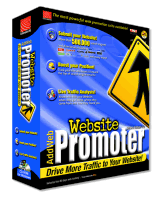 A complete suite of Web site promotion tools. AddWeb Website Promoter Deluxe provides you with the tools necessary to help you get better visibility and more search engine traffic on your website. The world of website optimization and promotion has changed, and your business needs more than just a submission program. It needs a complete promotion, positioning and optimization program that has changed with the times.
It used to be that to get your site noticed, you could simply get a submission program or service and before you knew it, you would see the traffic flowing in. Later, programs that promised to trick engines into giving you high ranking did the trick. Those are the old days. Today, submitting alone usually won't get you far, and any attempt to inappropriately boost your position will often result in disaster for your site.
To get traffic, you need to optimize and promote your website with a comprehensive plan, which includes submitting to engines, building a good website with relative content, and building your site's popularity. Those three things and some patience will deliver the best results you can aim for.




Software Information
System Requirements
Version:
8.5.0.4

Window 98/2000/NT/XP/2003/Vista
Pentium PC or higher
128MB RAM

File Size:
7.97 MB
License:
Free to try, $69.99 to buy
Screenshot:
View Screenshot
Rating :
A suite of 19 essential Website Optimization, Maintenance, Submission and Ranking promotion tools in one powerful suite!
LinkTrader
Boosts your website's link popularity by exchanging links with thousands of other webmasters.
Submitter
Submit your website to thousands of search engines instantly.
Page Advisor
A search engine optimization expert that automatically analyzes your web pages and shows you what you need to do to get a top ranking position.
SiteStats
Find out who is visiting your site, where they come from and what keywords they use. This is critical for effective search engine optimization and positioning.
Reporter
Detailed reports on submission,, optimization, ranking, search engines and more. Output in HTML, EMAil and even CSV for import into Access and Excel.
FTP Uploader
When you are finished optimizing your pages, upload them from within the program.
Keyword Finder
Get suggestions on what keywords to use based on actual searches done on the Internet. Simply enter a keyword that matters to you and get a list of alternate keywords, as well as their popularity.
Knowledge Base
A full tutorial on search engine positioning that will give you the knowledge of a pro in the SEO business. Learn what helps your site rise in the rankings and what makes it plummit. You will be an expert in no time.
PageBuilder
Optimize your web site for top ranking on search engines by automatically inserting position-boosting code, such as META tags, Heading tags, ALT tags and more.
Rank Check
Check your ranking on over 100 major search engines. It even tracks your ranking over time, and shows how you are doing against your competition.
Pay Submissions
Some major search engines offer faster submissions for a fee. Access these search engines and Pay per click sites directly from AddWeb
Search Tool
Quickly find out who you are competing with for search engine placement. Allows you to search all the major engines from a central location.
ROI Calculators
Have you ever wondered how much you should spend on internet advertising, or how much you can potentially make? These calculators are designed to help you determine how much each visitor to your website is worth, and what advertising budgets you should set.
Domain Manager
Search for domains through a double-whois lookup that quickly finds detailed info on just about any domain. When you find domains you like, you can add them to a watch list, and if they are available, you can quickly grab them up.
Keyword Manager
While researching your SEO strategy, use this interface to manage which keywords you want to target with varied domains. Quick at-a-glance vies make it easy.
SmartPatrol
Regularly and automatically monitor your websites for downtime and conenction speed. SmartPatrol can notify you via e-mail (even to your cell phone) whenever it senses a problem with your website.
WYSIWYG HTML Editor
A full-featured What you see is what you get HTML editor built directly into the AddWeb interface.
Link Checker
Quickly and easily scan your web pages for borken or improper links.
HTML Validator
Quickly scan your web pages for valid HTML. The validator will produce a report outlining any problems it finds.
NEW in AddWeb 8.0:
AdviceBuilder
A program that allows you to reverse-spider a search engine, finding out what page elements help a site, and which hurt a site. The results AdviceBuilder provides feed directly into PageAdvisor. This means you can tune the Page Advisor results to focus on optimizing for specific keywords.
SmartPatrol
SmartPatrol is a program that now installs with AddWeb. It runs in the background on your computer and regularly checks your website(s) to make sure they are up and running. If it finds your site is down, it can notify you via e-mail or SMS message to your cell phone. In addition, it can monitor specific text on your pages, alerting you if your page may have been hacked. Finally, SmartPatrol monitors your connection speed, notifying you when your site is slow.
HTML Validation
Check your web pages for errors. HTML Validator, finds many syntax errors in your pages that can cause them to display incorrectly in some browsers, and effect search engine ranking.
WYSIWYG HTML Editor
AddWeb 8 now boasts a full what you see is what you get HTML editor within the program.
Link Checker
Scan your website for broken links.
AW8 Portal
The old AddWeb Overview page that displays when you first open AddWeb has been completely revamped into a Dynamic SEO community, titled the 'AddWeb Portal'. New additions include:
AddWeb Community – Message boards where you can discuss AddWeb and SEO topics with other webmasters that are using AddWeb
Community Polls. Find out what others are doing that works
Live SEO/Search Engine News Feeds from multiple sources
Integrated FAQ and KnowledgeBase
Integrated Technical Support
Video Tutorials
We've added all new video tutorials to help get you started with many of AddWeb's features..
Ranking
Increased keyword limits. Deluxe now allows 10 and Platinum allows 25
Page Builder
Keywords are no longer alphabetized in Keyword list so that the list is built in the same order as the keywords were entered
SEO KnowledgeBase
Now integrated into the AddWeb Portal
Now includes search feature
Now includes a 'Discuss this with other webmasters' feature.
PageAdvisor
New definitions that take into consideration many search engine changes.
Keyword Search
Added more search engines
Keyword Finder
Added new Print Report feature, which generates attractive HTML reports of keyword results.
Link Trader
Added ability to edit login information
Added Open communication features to system mail
Improved information in warning and cancel messages
Search results can now process multiple requests
LinkTrader Server now has background link checking
Added Send warning feature for link checks that have no link to link page on site's home page.
Pay/Bid Engines
Incorporated into AddWeb Portal
Added More engines
SiteStats Live
Now comes with 6 months of Free SiteStats Live Service (Up to 60,000 page views)
Reports
Added new default report style
Database Update Subscription
Another full year of data updates. Every upgrade to AddWeb 8 includes a one year search engine database subscription.
RELATED SOFTWARE DOWNLOADS FOR ADDWEB WEBSITE PROMOTER DELUXE