ABCCounter Standard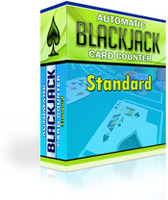 ABCCounter is an automatic blackjack card counting software program that will forever change the way you play blackjack at online casinos.
The aim of ABCCounter is to help you spend your time improving your game strategies, rather than actually playing.
With its unequaled set of features and ease of use, ABCCounter blackjack card counting software is the perfect choice for blackjack players of all skill levels.

Using an automatic blackjack card counting software is one of the best ways to increase your short and long-term winnings.

ABCCounter helps you discover which strategies and betting systems perform better, what card counting strategies are easier to learn when playing at land-based casinos, and which strategies make you the most money.
Software Information
System Requirements
Version:
1.4.6.18

Windows XP or Higher
Pentium III, 1 GHz CPU or higher
At least 512 MB of RAM
256 MB video card with 32-bit color

File Size:
6.70 MB
License:
Free to try, $64.39 to buy
Rating :
The main objectives of the software are as follow :
Allows you to play online blackjack in automatic playing mode. ABCCounter software can play at an online casino without your involvement. It opens the door to many effective strategies that are too time-consuming to use.
Frees up your valuable time. You can complete a manual blackjack game requiring 30 minutes in as little as 5 minutes.
Requires minimal computer expertise and minimal knowledge of blackjack. Novice blackjack players love the fact that it's so easy to set up and use. No previous gambling experience is required to play. You can install ABCCounter software with only a few clicks and be up and running in a matter of minutes. That's why we include a beginner wizard mode for inexperienced players.
Plays at multiple tables at the same time, independently of one another. This means different strategies can be used for different tables. This is useful because you may not know which strategy performs better at different casinos.
Offers the possibility to test your own strategies programmed with a scripting language. This enables you to easily share strategies with friends and family members.
ABCCounter blackjack card counting software allows you :
To play by yourself in manual mode and ensure you are following the strategies correctly.
To easier learn the advanced methods of beating blackjack. It also helps you improve them. You can create your own strategy and test it with our software, and then apply it risk-free at land-based casinos.
To try your own strategies at multiple tables at the same time. This way you can test which one performs better. Just select your best strategy and start winning at traditional casinos.
Below you will find the key features of our ABCCounter blackjack card counting software:
Many Online Casinos Supported
Play Blackjack Automatically
Large Selection of Strategies & Systems
Create Custom Strategies & Betting Systems
Play Live Dealer Blackjack Automatically
Apply any Card Counting Strategy
Create Custom Card Counting Strategies
Play Multiple Tables at the Same Time
Beginner Mode
Advanced Player Options
Multiple Languages
Try it For Free
Learn & Apply New Strategies
Play Error-Free
Enjoy More Functionality & Advanced Features
Learn How to Beat the Casino
Save Valuable Time
Have More Fun
Free Up Your Computer
Easy for Both Amateurs & Professionals
Receive Support & Professional Service
RELATED SOFTWARE DOWNLOADS FOR ABCCOUNTER STANDARD