1-Click PC Tuneup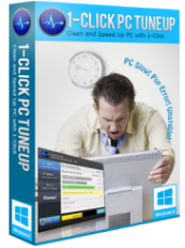 Does your computer ever feels slow and sluggish? Ever want your computer to go just a little faster? Professional service too expensive or you just don't want to leave your computer in a stranger's care? Fret no more! With 1-Click PC Tuneup, you can make your computer faster and better by yourself. 1-Click PC Tuneup is fast and simple PC tune up software. It will diagnose and fix all the problems that are clogging up our computer. With its registry cleaner, junk file remover, memory optimizer, and other powerful tools, you can be sure that your computer is well taken care of. It can even help you to browse the internet faster with its browser optimizing tools.
1-Click PC Tuneup is a called a baby software, meaning that even though you may not be a computer expert, you can use it to fix and speed up your computer. Did you know that 1-Click PC Tuneup has customers in over 100 countries and served over one million downloads already? 1-Click PC Tuneup has also won many awards given out by highly regarded companies such as PC World and Softonic. Stop using shoddy software and start using a internationally reputable tune up software, the 1-Click PC Tuneup today! 1-Click PC Tuneup is available for Windows 7, Windows 8 , as well as Windows XP and Vista.
Software Information
System Requirements
Version:
v1.0

Windows 8/7/XP/Vista (32bit and 64 bit)
512M physical RAM or above

File Size:
8.6 MB
License:
Free to try, $29.95 to buy
Screenshot:
View Screenshot
Rating :
The Main Features of 1-Click PC Tuneup :
Registry Cleaner: It will perform a scan of your entire registry to find any errors that may cause system freezes or crashes. It will than correct them to their original values;
Registry Optimizer: It will perform a scan of your entire registry to find any entries that are no longer used by your programs. It will than delete them to speed up read time;
Junk File Cleaner: This module will perform a scan of all the files on your hard drive. It will then show you files that you or the machine haven't use in a long time. It will then allow you to save or remove these files, thus saving up hard disk space;
Memory Optimizer: By performing a scan on the RAM that you have, this module will find memories that have been allocated but not in use. It will then attempts to free up those memories to speed your computer up;
Internet Optimizer: A leading reason for slow internet is bad user setting. The default settings that came with your computer may not be the best ones for you. This module will change those settings to values more appropriate for you;
System Service Optimizer: When your computer is operating, Windows is running many system services in the background. However you won't ever need most of those services and this module will end them to save system resources for the programs you actually need;
Shortcut Cleaner: As you use your computer, you will end up making a large number of shortcut, however, over time, the files that these shortcuts pointing to will be gone. This simple operation will detect and remove these useless shortcuts;
Start up Optimizer: By not running unnecessary programs at start up, this module will shorten your startup time and allow you to get to work faster.
RELATED SOFTWARE DOWNLOADS FOR 1-Click PC Tuneup