BlazingTools Smart Type Assistant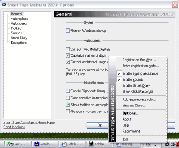 Do you type the same phrases over and over again? Often mistype? Smart Type Assistant is here to help! It's an easy-to-use, time-saving utility for all Windows operating systems.
Initially, Smart Type Assistant's basic purpose was to add some useful Microsoft Word features to every application you use. Now it has evolved into a complex typing automation tool, intended to make your work faster and safer.
Smart Type Assistant offers you Smart Diary a useful feature for automatically saving what you type. It will help you to recall what you wrote some time ago, and to restore important documents after Windows crashes. It automatically stores everything you type in the strongly encrypted file, which can be protected with a password. It can help you to organize your archives.
Other features are Clipboard Spellcheck, Autoreplace (expanding short keywords into full phrases), Autocorrect (common typing errors, two initial capitals, and accidental usage of the Caps Lock key), various operations with the selected text, pasting large text pieces with a hotkey, Clipboard History and much more.


Software Information
System Requirements
Version:
1.7

Windows 8/7/XP/Vista
Pentium 133 processor
512 MB RAM

File Size:
360 KB
License:
Free to try, $9.95 to buy
Screenshot:
View Screenshot
Rating:
Features of BlazingTools Smart Type Assistant:
Autoreplace (expanding short keywords into full phrases).
Examples:
BTW -> By the way;
withb -> With best regards;
i@ -> myemail@yahoo.com ;
ww. -> http://www.myhomepage.mylovesthost.com;
Weh -> We hope you will be pleasantly surprised by our service.
Autocorrect (fix common typing errors on the fly) Examples:
adn -> and;
fromthe -> from the;
seperate -> separate;
i -> I;
The difference beetween Autoreplace and Autocorrect is that Autocorrect works without your intervention while you are typing, but Autoreplace requires you to press Enter or Tab to expand the phrase.
Smart Diary
Logs and saves the texts you type to prevent losing of data when system crashes and organize your text archive.
Clipboard history
Stores to the last 15 Clipboard contents for instant pasting.
Clipboard spellchecking
Quick Text Paste
A feature for quick filling of forms and frequent text fragments.
Correct two initial capitals
Example: HEllo -> Hello; OUr -> our.
Correct accidental usage of Caps Lock
Example: qUICK -> Quick.
Paste text with hotkey
You can set a hotkey to display the list of phrases or large text templates.
Change case of selected text
To invert the case of a text fragment, select it and press Break key.
Music keyboard
You can assign an individual sound for each key to the keyboard.
Windows operations
Keystrokes to minimize, maximize, restore the active window.
Exceptions
Specify programs where STA will be disabled.
More Screenshots - Click each image to enlarge!