Smart Phone Recorder - record telephone calls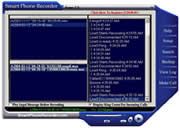 Smart Phone Recorder - the PC Answering Machine Software can record telephone calls at an incredible compression rate of 3.7MB/Hour (others use the format of 56.25MB/Hour) into windows wave (.wav) files using your computer's voice modem. It greatly saves your computer's resources.
Another unique feature is this phone recording software can start recording automatically even if you lift your telephone handset before the answering machine software takes an action for an incoming call. You may simply negotiate with your customer as usual without clicking on a button or pressing a key.




Software Information
System Requirements
Version:
3.0

Windows 8/7/XP/Vista
Pentium II CPU
512 MB RAM

File Size:
744 KB
License:
Free to try, $49.95 to buy
Screenshot:
View Screenshot
Rating :
Key Features of Smart Phone Recorder:
1) You can record an outgoing call at any time during conversation just by RIGHT CLICKING the 'Make Call' button. 2) You can enlarge the three small window by clicking on the title button. 3) Dialer feature enhanced.
Auto Start Recording (Unique Feature)- When you lift the handset for an incoming call, Smart Phone Recorder will automatically start recording your conversation and save it to a file with the format: "year-month-date~hour-minute-second~caller id~caller name.wav"
Real Time Audio Compression (Unique Feature) - The wave file is record with a low sample rate. This means you may store 8760 hours worth of wave files (One Year!) on a 32G hard disk.
Auto Answering - Smart Phone Recorder will answer the call after a pre-set number of rings, play a greeting and record your voice mail.
Caller ID Detection Supported - You may get callerID information when:
1.You have a voice modem that supports CALLER ID detection in your local state
2.Your telecompany supports CALLER ID information transfer
3.You have subscribed to the CALLER ID service
DTMF(Dual Tone Multi Frequency) Detecting - When the caller enter a series of digits on the telephone keypad, Smart Phone Recorder displays those digits.
Backup Data - Provides a simple interface to backup or managing your wave files.
Log Management - Reviews or prints the log files(status) of every day connections.
Build in Phone Book - Store up to 3000 records containing phone numbers and names or other information. If your modem supports CallerID, the caller name and phone number will be displayed in the log file.
Answer Ring Rules - Sets the number of rings before the phone recording software responds to the call.
Hide to Systray - Minimizing the startup screen places an icon in the Systray
More Screenshots - Click each image to enlarge!