SI-Metric Kids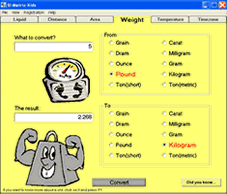 SI-Metric Kids is a graphical easy-to-use US to metric unit converter ideal from everything from cooking to engineering. The product also features an extensive time zone database with both city and country lookup. Don't think of SI-Metric Kids as a mere calculator, because the product includes an encyclopedia providing detailed history and origins of the units and time zones. Let SI-Metric Kids help you with your unit or time zone conversions.

Trivia…Conversations…Friends…Dinner; enrich your life and that of others by understanding and using properly the metric system. Its history is living and as dynamic as that of Europe. Relive the Roman Empire and their influence in modern society. Each unit that we have and use has a story that will entertain and educate. Even time has its story.



Download Trial 7.93 MB
Software Information
System Requirements
Version:
1.82.5

Windows 9x/Me/NT/2000/XP
Pentium or similar processor
Approximately 6 MBytes free hard disk space for program files
32MB RAM

File Size:
7.93 MB
License:
Free to try, $15.99 to buy
Screenshot:
View Screenshot
Rating:
Key Features:
Time Zones
Select the country, U.S. city, or International city from where you would like to know the time using our dropdown list and SI-Metric Kids will immediately show the current date and time along with your local time.
Daylight and Nighttime Indicators
Knowing the time is nice, but often you just want to visually be aware of whether the destination place is in daylight or nighttime. SI-Metric Kids shows a cute picture of the sun or moon to indicate what part of the day the destination place is.
Unit Conversions
SI-Metric Office allows you to convert common liquid, distance, area, weight, and temperature units quickly and easily. Simply enter the unit to convert. Select the original (source / from) unit and the destination (to) unit, press the convert button and watch the results.
Graphics
Each tab shows graphical images applicable to the unit that you wish to convert. Teaching children measurements is easier when they have a picture that they can correlate the unit to.
Big Controls
We tested the interface with children and adults of various ages and came up with colors and sizes that make it easy for little fingers to click, yet is still acceptable for us not so little kids.
Unit Encyclopedia
No matter what information you wanted to know or didn't want to know, SI-Metric Kids comes with an extensive unit encyclopedia. Whether you want to know the origins of the Fahrenheit scale or why a meter is the length that it is, you will find the answer in the included encyclopedia. We even include graphical pictures to illustrate the different points!
Did You Know Questions
Reading facts can go in one ear and out the other, so to speak. That is why SI-Metric Kids features a Did-You-Know section, where you can test yourself or your kids on different questions. If they miss the question, then they can press a button and reread the section.
International Support
SI-Metric Kids comes with full support for international numerical formatting. No matter what country you are in or how you enter numbers or other information, SI-Metric Office has built in support for you.
Desktop Support
SI-Metric Offices comes with full support for normal, large, or custom system font support.
Installation
SI-Metric Office comes with a simple and intuitive installation utility.
Help
The program has a complete help system in case you get into trouble. You can look in the help file, press F1 to get instant context sensitive help, or press the Did-You-Know button to get help.
Support
Although you probably won't need it, SI-Metric Office comes with unlimited free technical support.
Office Version
If you want a more professional unit and time zone converter, then look no further than SI-Metric Office, which features an extensive unit conversion library with customizable precision, 4 separate displaying grids with analog and digital clocks that can show the times around the world, a word map with custom displayable cities, say the time talking clock, time and task reminders, atomic clock synchronization, and much more.
Key Benefits:
With friends, families, and business contacts scattered throughout the world do you want to quickly know the time somewhere on the planet? Don't leave the time to chance. SI-Metric Kids can show you the time anywhere in the world. Simply select the country or city.
Are you just interested in whether it is daylight or nighttime somewhere? Much of the time a simple picture speaks a thousand words. SI-Metric Kids shows a picture of the moon or sun, as applicable for the selected location.
Do you cook and want to know the how many grams are in an ounce? Are you listening to the weather report and confused by the temperature? SI-Metric Kids can translate the most common units quickly and easily.
Even highly educated adults lack knowledge of the history our measurement systems. Knowing our history can help us with our future. SI-Metric Kids includes all the information that you've ever wanted to know on the different units, measurement systems both old and new, and time zone, and time measurements. Test your knowledge or play trivia questions with your kids.
Trivia questions has always been an interest for most people. Just you look at the success of "Who Wants to Be a Millionaire", which has spun off incarnations in different countries. SI-Metric Kids features a Did-You-Know trivia section that quizzes you on different questions. See what you know and don't.
More Screenshots - Click each image to enlarge!