Service Scheduler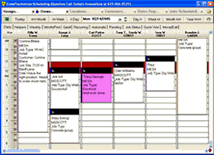 Service Scheduler was designed specifically for service companies. It easily generates single and/or multi-tasked jobs and will automatically schedule your jobs for you. It is a very powerful program that will track all your job tasks down to the day. It includes Job Creation and Tracking module, Employee module,Reporting module and Scheduling module. The Scheduling module includes the following scheduling routines;Weekly, Monthly, Gantt, Find and Schedule availability, Reoccurring, Automatic,Job Status and the ability to move blocks of schedules in one process.




Not available Now!




Software Information
System Requirements
Version:
New

Windows 9x/Me/NT/2000/XP
Pentium or similar processor
64MB RAM

License:
Free to try, $600.00 to buy
Screenshot:
View Screenshot
Rating:
Key Features:
Job, Phase, Day by Day progress.
Auto-scheduling of single tasked and multi-tasked jobs. The Service Scheduler matches jobs up with employees who are available and capable of doing the job while keeping there assignments within the same area. It even does drive time.
Recurring Scheduling (automatically schedule on any day of any week for any period of time)
Multi-Phased/tasked job templates (pre-set how many days/hours between phases)
Move/edit multiple jobs at one time.
On-the-fly create a customer, job and schedule all in one process
Find and Schedule open time slots. (Will check availability, who?s capable of doing the job and provide you with a selection list of all times and people available.
More reports. New Work Orders, Blank Work Orders, Work Schedules, Item/Tool Reports, Customer labels (you can even select which ones you want to print) and more.
Sub Disclaimers and Regular Disclaimers. Enter your own work order disclaimers. They will automatically appear on your work orders.
Keep track of items/materials and their serial numbers, even assign them to employees. Now people are accountable for those valuable tools.
Quick View/Print. Quickly see what your employees are doing, how many hours they are working on a job and the total amount of hours they our working. You can filter it by customer, employee and within a specified date range.
Quick Find - Enter a telephone number to be taken directly to the schedule.
Master Find - Quickly find out any information you need.
Pre-Set drive time according to your city/area. Every day hours are lost because of wasted drive time.
Pre-Set Time Off. Set when employees aren?t available to work (great if you have part-time schedules or alternating shifts)
Temporary crew assignment. Sometimes people don?t show and you may need someone else to do that person?s jobs. The temporary people (s) don?t even need to be in the system to assign them to work.
Track Go-Backs. Know what happened, why you had to return to a job that should?ve been completed, what you had to order and the people assigned to the job.
Map the job site (Will take the job information already entered and grab a map of the job site, then attach it to the work order).
Close out multiple jobs at one time. Add in additional notes about the job. Even change the job type if necessary.
Convert closed jobs back to active jobs.
Copy jobs.
Easily import your existing customers and employees into The Service Scheduler.
Export anything in the database into multiple file and database formats.
Pre-set when you want the program to be backed up and maintenance procedures ran.
More Screenshots - Click each image to enlarge!